Hotel front offices are often regarded as cost centres, when they should be seen as profit centres. Artificial Intelligence (AI) can filter and solve customer requests and FAQ so that that staff can focus their attention only on high-value customer requests.
Innovation is Not About Replacing Humans With Machines
Complacency is the main obstacle to hotel front office modernization. Hoteliers tend to compare the tasks that their front office human staff is doing and try to find a machine that could replicate them. This is the wrong way to go about it. Innovation is not about replacing humans with machines. It is about finding new ways to deliver value.
Artificial Intelligence (AI) is a disruptive technology that is here to automate tasks and improve the way a hotel front office works. Implementing AI at your front office or call centre has to be part of a transformation process that will establish a new balance between staff and virtual agents to use the best skills each one has to offer.
Leverage Hotel Chatbots to Automate Customer Interactions
AI is still far from human abilities. Nevertheless, chatbots can deliver instant answers to hotel-related queries and, as a result, reduce operational costs by making sure staff does not waste their valuable time on mundane conversations. Instead, AI is better than humans at handling repetitive customer requests. So focus on what it is right about AI and how it can complement your staff.
Chatbots Boost Hotel Front Office Efficiency
90% of customer requests that hotel front offices receive every day are repetitive. This offers an excellent opportunity for automation. Incoming customer queries mainly originate from email, phone, chat & messaging channels. The current state of AI technology (see picture below) makes such conversations easy to automate. So, why not start exploring what AI can do for you?
–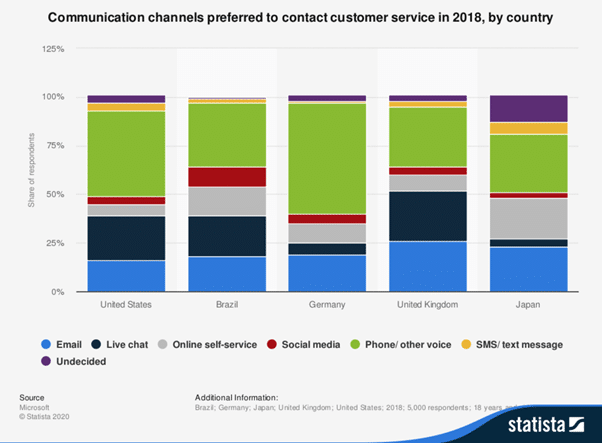 –
2 Use Case of Hotels Which Successfully Incorporated AI
Below you can read two examples of how hotels have successfully incorporated AI into their hotel communications.
1) NH Hotels Front Office Manages Incoming Emails with AI Email Automation
NH Hotels has been leveraging AI to solve email dispatching issues. In summary, the NH contact centre receives a high volume of email requests every day. Thanks to Natural Language Understanding algorithms (NLU), they can now instantly identify and process reservation requests.
NH Email Bot Process
Manage simple requests for availabilities
Identify MICE opportunities

When a request is not relevant due to lack of availability or budget, notify the customer by email
When a request is relevant, forward it to a MICE agent for fast follow up. (Average response time <1h vs 1.5 days before)
Example of NLU applied to email interpretation
(Source: HotelRezBot)
2) Zafiro Hotels & Resorts Leverage an AI Chatbot to Offer Instant Customer Service
Chatbots should also be part of your communication strategy. Zafiro Hotels & Resorts implemented Quicktext chatbot on its website and social media channels in 2019 to resolve call centre saturation issues. A few months after implementation, Zafiro chatbot was able to deliver instant automated answers to around 80% of customer queries.
–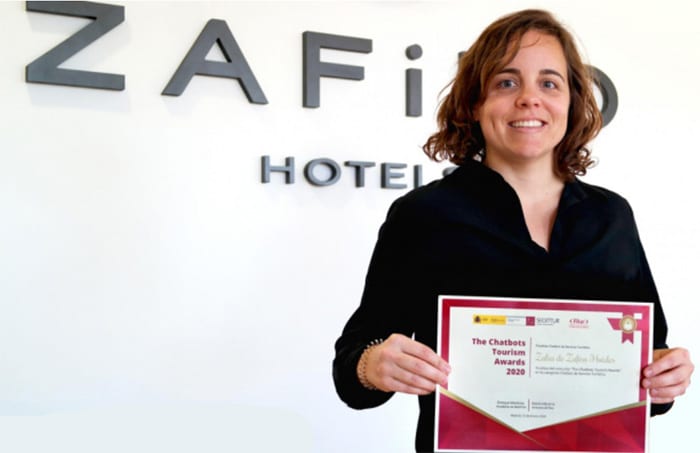 Maria Serra, e-commerce manager at Zafiro Hotels & Resorts.
👉 Click here here for more detailed information and results of the case study of Zafiro Hotels.
Make Best Use of Chatbots
Chatbots are not only good at answering FAQ. They can also manage frequently requested tasks, such as modifying, cancelling reservations or processing upgrades. A smart chatbot can quickly sort the request: Is it from a direct or OTA customer? If it was a direct booking, the chatbot could provide a cancellation link and an opportunity to get more help if the customer really can't cancel on his own. If the cancellation was through an OTA, they could politely send the customer back to cancel procedures on the OTA's website.
–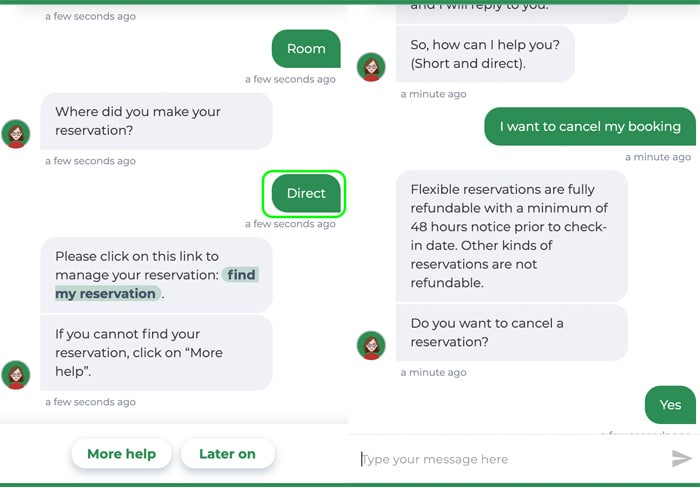 –
AI and Humans Working as a Team to Maximize Customer Satisfaction
The volume of daily inbound customer queries is a challenge for any front office. Bots act as a filter so that 70-80% of requests are resolved automatically. Humans can then focus their valuable time on highly qualified requests only. As a consequence, trained staff will be able to make relevant decisions and negotiate to resolve complex sales and complaints.
The average conversion rate of a hotel chatbot working without any human support is 10%. If human staff leverages the information provided by chatbots to follow up on customers that have not confirmed their reservation yet, the conversion rate can reach up to 35% if done well.
The implementation of AI goes hand in hand with better staff training so that your team can acquire new skills necessary in an AI-driven front office or contact centre.
Free Ebook

: "Chatbots in the Hospitality Industry"

Chatbot technology has evolved steadily over the last few years and is gaining acceptance in the hotel industry. However, some hotel owners are also unsure of what chatbots can potentially deliver and how consumers can benefit from using them. In this ebook, you'll learn about the value of chatbots and how to select and implement a hotel chatbot.

Click here to download

the free ebook

"Chatbots in the Hospitality Industry"

.
For too long hotel front desks have been doing the work of machines. It is time to liberate them from repetitive queries and help them focus their time on high-value tasks. AI streamlines front desks processes, helps hotels deliver instant service and increase direct sales while human staff focuses on creating a human bond and unforgettable experience with customers on property.