Hospitality professionals must revisit their business model to create resilient long-term strategies to keep afloat in these challenging times. Artificial Intelligence (AI) is an essential asset to reduce costs and keep delivering premium guest service. In this article, you will learn how hotels use AI Chatbots to adapt to COVID related market conditions.
Hotels Face Challenges Due to COVID
The impact of COVID will be felt for years. Hoteliers that want to survive these wearisome times face 3 main challenges:
Keep delivering excellent service when operating in skeleton-staff conditions;
Focus sales efforts on conversion to compensate for smaller search volumes;
Understand new customers' needs and align service delivery to real customer expectations.
Addressing these 3 challengers, this article will show you how hotels leverage AI to increase operational efficiency, drive direct sales, and deliver personalized guest service.
Challenge 1- Automate Low-Value Tasks to Deliver Excellent Service with Fewer Staff Members
Hotels are Obligated to Compress Their Staff
Most staff members are furloughed and some will not come back. So hotels that want to survive need to find ways to rationalize their workload and deliver excellent service with smaller teams. AI provides a solution to this problem by means of chatbots.
AI Handles over 80% of Guest Interactions in 2020
One of the big time wasters in hotel customer service is the incessant calls and emails that hotels have to manage on a daily basis. Hotel chatbots, such as Quicktext AI-powered chatbot, can effectively handle 80% of customers' queries and save hours to front desk staff every day.
Staff only Intervene Where They Can Add Value
Chatbots act as a filter. While all frequent queries are managed instantly, requests that really require human attention are escalated to staff. On the customer side, it is clear that their requests have been forwarded to the hotel staff and will be managed fast. On the hotel side, staff can deal with requests at their own pace (but at an acceptable time frame) instead of being constantly interrupted by the phone.
Challenge 2- Focus Your Efforts on Conversion
Don't Let Customers Escape Your Website without Booking
Hoteliers pay good money to bring online traffic. Once travelers are on your website, they are left alone to look around and book on their own. What if they are not entirely convinced or not ready yet? When travelers check your website, the question they are really asking is Why should I book with you instead of the hotel next door?
ChatBots Instantly Reassure Customers and Help them Book
Chatbots are here to clear up customers' doubts and guide them through the direct booking funnel thanks to a direct connection to your booking engine.
More importantly, at the same time as chatbots deliver information to potential customers, they capture actionable customer details, such as name, email, phone number, dates of stay, preferences, etc.
If a traveler doesn't complete his direct booking, your human team should be able to use the information captured by the bot to proactively follow up by email or phone and close the deal. Based on experience, a chatbot will manage a 10% conversion rate on its own. When hoteliers set up a sales follow-up process conversion rate can reach 30%.
Below you find an example of a booking request sent to staff by a hotel chatbot. With this summarized information hotel staff can follow up on booking requests that weren't converted automatically.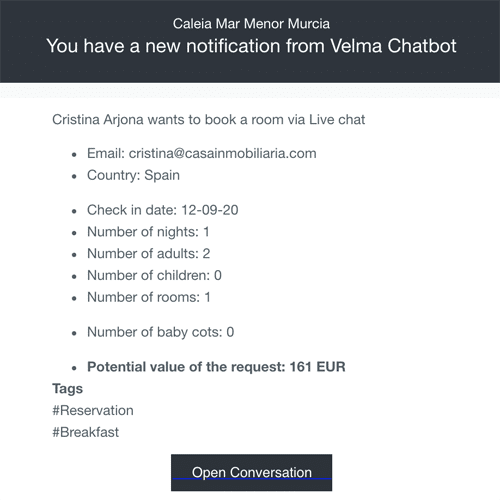 Challenge 3 – Align Your Service Delivery to 2020 Customer Expectations For Instant Satisfaction
Hoteliers are often convinced that handmade service is always superior to what machines could deliver, but human staff abilities might vary and eventually can't keep up with customers' expectations for instant and consistent service 24/7.
Adapt Your Service Delivery to Guest Behavior: Humans at the Front-Desk, Bots Online
When you think about service delivery make sure you also consider online customers. Human service is great when guests are at the front desk and you should absolutely keep it. However, customers spend more time online than at your front desk. Online customers hardly receive any kind of assistance at all. Most of them won't call and go somewhere else. Also, since customers are mobile-first, make sure that they can get service from your hotel website, but also from their favorite apps such as Facebook, WhatsApp, Wechat, etc.
Chatbots Deliver Instant Personalized and Consistent Service 24/7
The most frequent customer questions are related to check-in time, swimming pool, spa, kids-friendliness, airport transfer, restaurant & room service menu. Human answers have absolutely no added value compared to a bot answer. Human answers quality can be inconsistent based on the agent seniority and staff turnover.
More importantly, the average response time between 24 to 48h is just not fast enough and the way things are headed, customers won't get more patients in the future. So automation via AI & chatbots is the only viable option.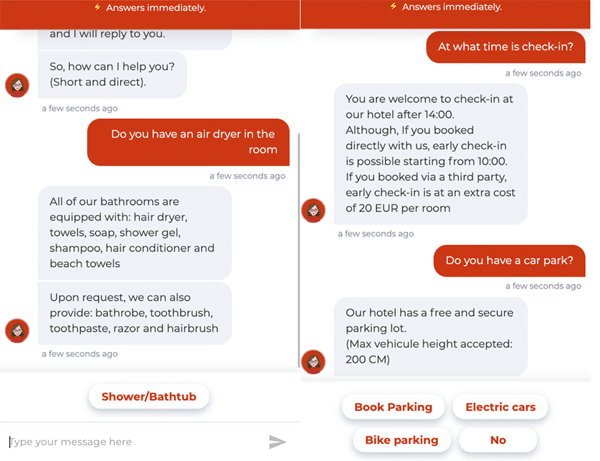 Example of frequent customer requests. Chatbots deliver precise information to customers instantly.
Free Ebook

: "Chatbots in the Hospitality Industry"

Chatbot technology has evolved steadily over the last few years and is gaining acceptance in the hotel industry. However, some hotel owners are also unsure of what chatbots can potentially deliver and how consumers can benefit from using them. In this ebook, you'll learn about the value of chatbots and how to select and implement a hotel chatbot.

Click here to download

the free ebook

"Chatbots in the Hospitality Industry"

.
Chatbots have become a must-have for hotels. Especially in these challenges times, where the limited staff is available and hotels need to adapt to new customers' needs. The current market conditions call for the fast adoption of this technology which is definitely part of the new normal.