Cool hotels are an alternative to the generic accommodation that many chains offer. Hotels without character or aesthetic appeal don't offer much to tempt the more discerning visitor. With more people travelling than ever before, the demand for interesting places to stay in the hotel industry is growing. In this article, you'll learn how you can benefit from the cool hotel craze.
Quick Menu
What Is Considered a Cool Hotel?
A cool hotel is one with an exceptional quality that makes it stand out. Some hotels are simply more memorable than others. They might boast a unique location, magnificent architecture, or striking decor. Maybe it's the atmosphere that makes them memorable. Whether they're high-end luxury properties or small boutique hotels, these establishments are the ones that travellers will make an extra effort to visit. Each of these hotels is different from the others but they all have something in common: they offer something that other hotels just don't, a quality that puts them on travellers' bucket lists.
Why Is It Important for Hoteliers to Research Other Cool Hotels?
The idea of a "cool hotel" is highly subjective, yet it can make a great difference to a hotel's marketability, so it has become a hotel marketing trend. A good starting point is to check out some other unique and popular hotels for inspiration. By looking at examples of cool hotels, you'll be able to identify what makes your hotel stand out and how you can showcase those special features. Perhaps your hotel is in an exceptional location. Maybe it's a historic building with period features that you can play up. Maybe your hotel has unusual decor and an atmosphere that just can't be found anywhere else. These are some questions your hotel management team can try to answer and make your accommodation unforgettable.
What Are Some Cool Hotels Around the World?
To give you some idea of what gives a hotel that elusive cool factor, here are some of the most outstanding cool hotels from around the world. From hotels whose appeal comes from their proximity to natural or historic landmarks to hotels offering unique cultural experiences, you're sure to find some inspiration.
Cool Hotels in Natural Surroundings
These hotels use their outstanding natural surroundings to draw in visitors, with accommodations that allow guests to enjoy these magnificent locations to their fullest. Notable landmarks and nearby tours and activities provide unforgettable experiences.
Giraffe Manor, Kenya
This iconic hotel is part of The Safari Collection. A breathtaking building, Giraffe Manor is located in Nairobi's Langata suburb. It's surrounded by a 12-acre stretch of private land, within a vast 140-acre forest. Giraffe Manor's biggest claim to fame is the herd of giraffes who roam the grounds. These shy but curious creatures are known to visit the hotel, even stretching their long necks in through the windows to peer at the guests. It's no wonder that Giraffe Manor is known as one of the most Instagram-worthy hotels anywhere in the world. Guests can book per night or as part of a safari.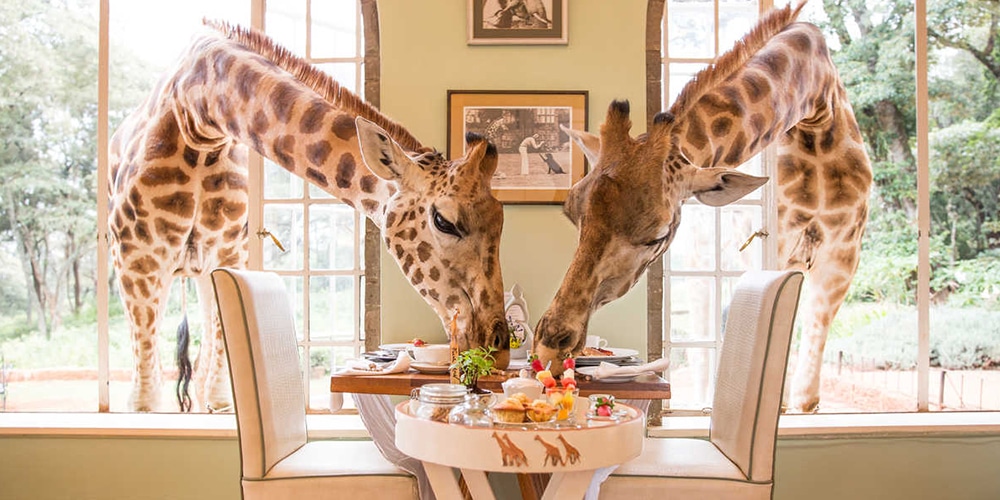 Click here to visit the website of Giraffe Manor.
Longitude 131˚, Australia
This cool hotel offers a glamping experience like no other. It is made up of sixteen luxurious tented pavilions set among the sands of Australia's Central Desert. The main attractions for guests are the spectacular views of Uluru and the access offered to the Red Centre. Visitors can explore the outback, view Aboriginal artworks and experience an unforgettable adventure before returning to the sumptuous surroundings of the hotel. Longitude 131˚ has a bar and a restaurant where guests can enjoy the best contemporary Australian cuisine while trading stories with the hotel's friendly staff.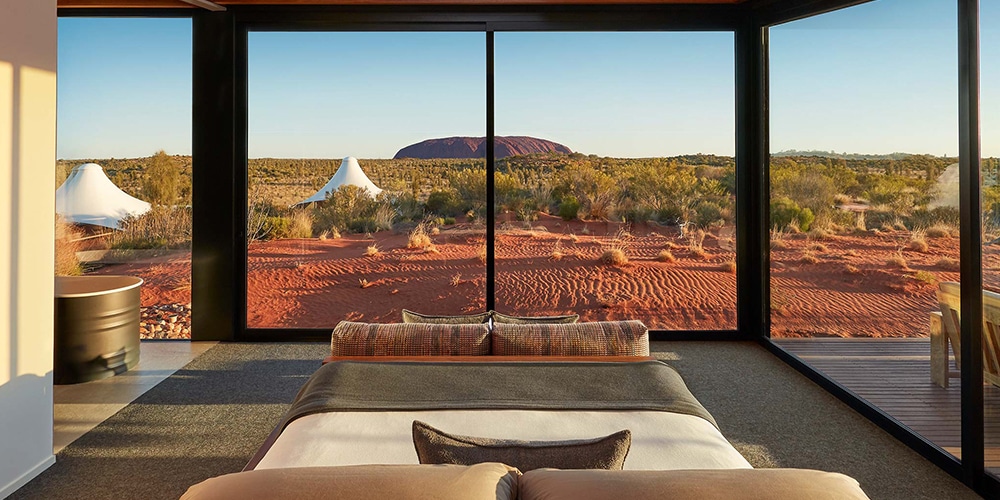 Click here to visit the website of Longitude 131˚.
Fogo Island Inn, Newfoundland & Labrador
For those looking to really get away from it all, this cool hotel is the perfect spot. It's situated on a tiny island — itself accessed from another island — in Newfoundland. The hotel's main claim to fame is its spectacular ocean views. Each of its 29 suites and rooms boasts floor to ceiling windows, allowing guests to enjoy the full majesty of the wild ocean beyond. The hotel's other cool factor is its commitment to sustainability and community involvement. All of its operating surpluses are put back into the Fogo Island community, helping to build a future for the island and its people.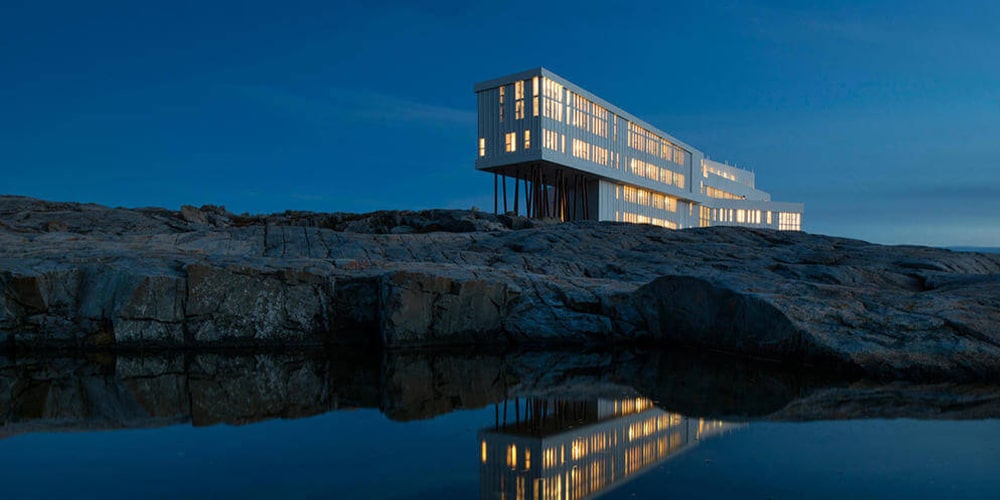 Click here to visit the website of Fogo Island Inn.
Anantara Golden Triangle, Thailand
Anantara Golden Triangle is set on a ridge in the jungles of Northern Thailand. It offers luxury accommodation, from guest rooms to family suites. Although it's among the finest hotels in the region, the Anantara Golden Triangle's principal claim to the cool hotel title comes from the experiences that it offers. Guests can wake up to spectacular views before heading out to visit the award-winning elephant camp nearby. They can take a cruise on the Mekong river followed by a relaxing evening at the hotel's spa.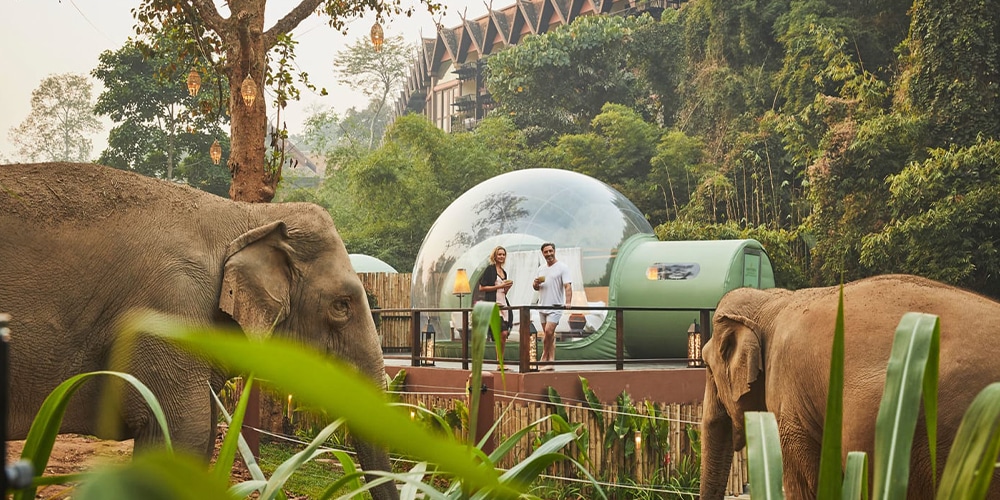 Click here to visit the website of Anantara Golden Triangle.
Kaklauttanen Hotel, Finland
Kaklauttanen Hotel is cool in both the figurative and literal senses. It's situated in Finnish Lapland, some 250km northwards of the arctic circle. Located at the edge of the wilderness, the hotel offers easy access to the Urho Kekkonen National Park. It's an outstandingly lovely region, with pure mountain air, crystal-clear streams and lakes, and starry skies free from light pollution. The hotel offers accommodation in unusual glass igloos, allowing spectacular views of the Northern Lights overhead.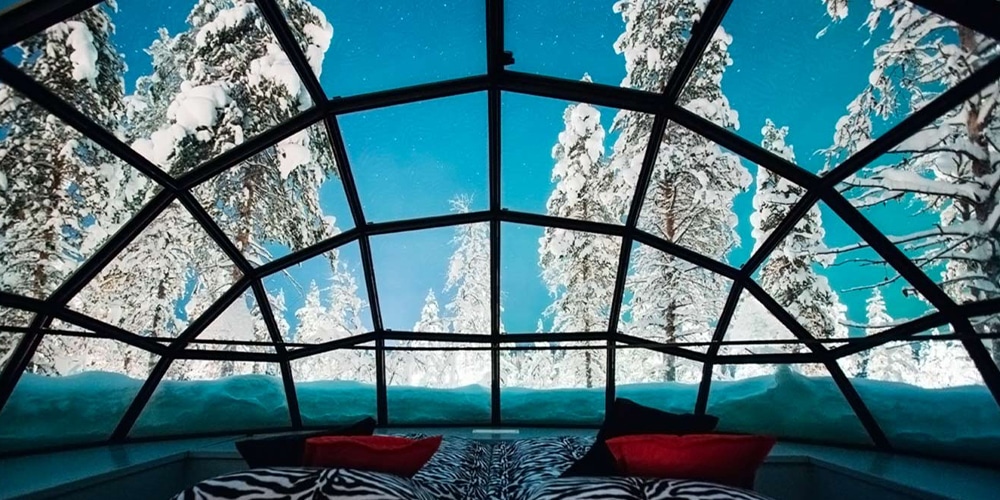 Click here to visit the website of Kaklauttanen Hotel.
Cool Hotels Inspired by Entertainment Culture
One way to establish your hotel as a cool place to stay is to theme it around an element of entertainment culture. A period in history, an iconic celebrity, a beloved book or film — these can really make your hotel stand out from the crowd. Here are some examples.
Georgian House, London, UK
The Harry Potter franchise is hugely popular, and this hotel is the perfect place to take the Potterhead in your life. The hotel's decor is designed to create a magical and mysterious feel, with faux-castle details, hidden doors, and passages lit by flickering candles. Guests can sleep in four-poster beds, peek out through stained-glass windows, and speculate on what potions might be brewing in the cauldron hanging in the fireplace.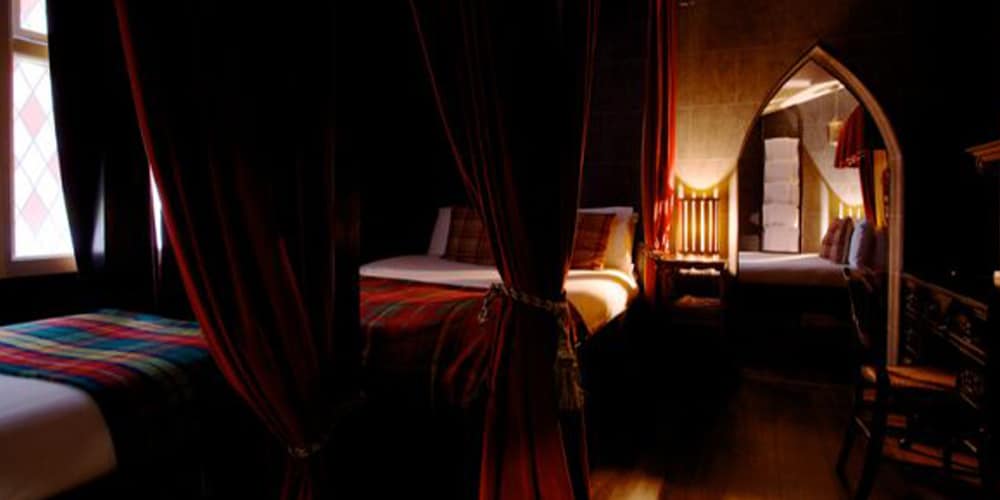 Click here to visit the website of Georgian House.
V8 Hotel, Stuttgart, Germany
The V8 Hotel is themed around the world of automotive history. The rooms are decked out with photographs, illustrations, and original motor parts integrated into the decor. Even the beds and furnishings are constructed from vehicle parts. Each room has been given its own unique character and style. The hotel also offers conference facilities and apartments for long-term stays.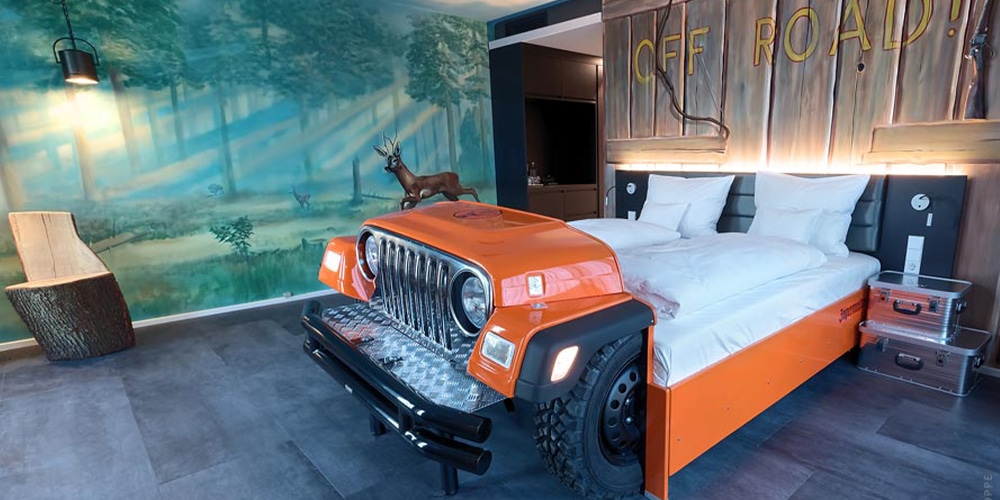 Click here to visit the website of V8 Hotel.
Victorian Mansion Bed and Breakfast, Los Alamos, CA, USA
This hotel offers six themed suites, each designed to create an immersive fantasy experience. Guests can stay in unusual quarters such as a pirate ship, a '50s diner, a Parisian artist's loft or a Roman villa. Hand-painted murals, lavish furnishings, music and even fragrances are all deployed to create the perfect atmosphere. The building itself is a beautiful Victorian house, lovingly maintained and in beautiful surroundings.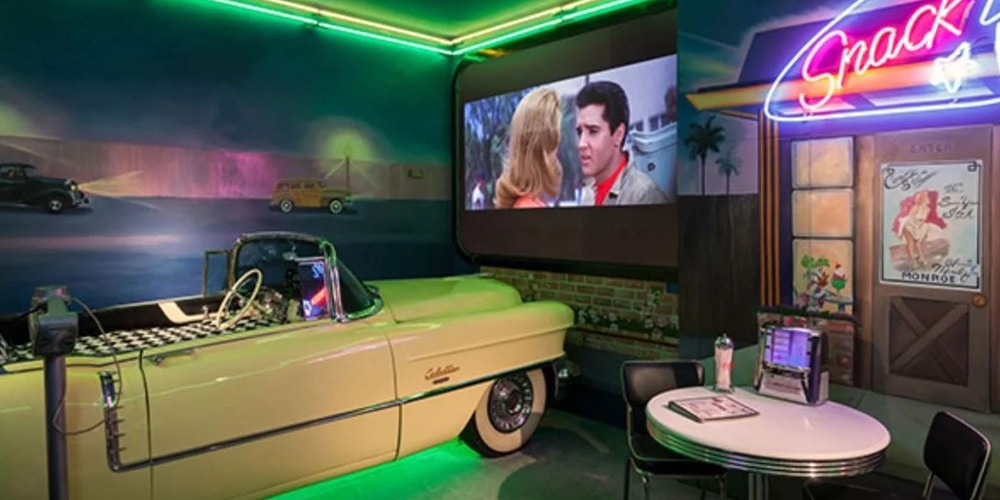 Click here to visit the website of Victorian Mansion Bed and Breakfast.
James Bond 007 Suite, Seven Hotel, Paris, France
A cool hotel doesn't need to be given over to a single theme throughout. A single accent suite can be enough to draw in curious visitors looking for something different. The Seven Hotel's James Bond 007 suite is just one example. The hotel itself is elegant and subdued, a quiet refuge on the left bank. Its James Bond 007 suite uses vintage chic and retro-futuristic elements to create the perfect ambience for 007 fans.
Video: Seven Hotels – Suite 007
Click here to visit the website of Seven Hotel.
Roxbury Motel, Roxbury, NY, USA
Extravagant and fun, the Roxbury Motel doesn't restrict itself to a single theme. The decor throughout is vibrant, quirky and lavish. The rooms are well-appointed and themed around a range of concepts taken from the '60s and '70s TV, such as Star Trek and I Dream of Jeannie. There's also a self-contained cottage with an archaeological dig theme. If you've ever wanted to stay in a genie's bottle, this is the hotel for you.
Video: The Roxbury on CBS Morning NewsNOT
Click here to visit the website of Roxbury Motel.
Cool Hotels Inspired by Historical Landmarks
Historical landmarks are a big attraction for visitors, who may be in the area specifically to tour a particular location. Hotels themed around a local landmark can make the experience more memorable, while a foreign landmark theme creates a sense of the exotic. These hotels take their inspiration from landmarks.
Dunton Hot Springs, Colorado, USA
Dunton Hot Springs is a secluded resort themed around the ghost towns left behind after the 1800s gold rush. There are log cabins where guests can stay in comfort, while the nostalgic saloon serves top-quality food to diners. The resort offers access to hiking trails and spectacular scenery, while also providing hot springs, spas and massage services. Guests can book a single cabin or book the entire resort for retreats and gatherings.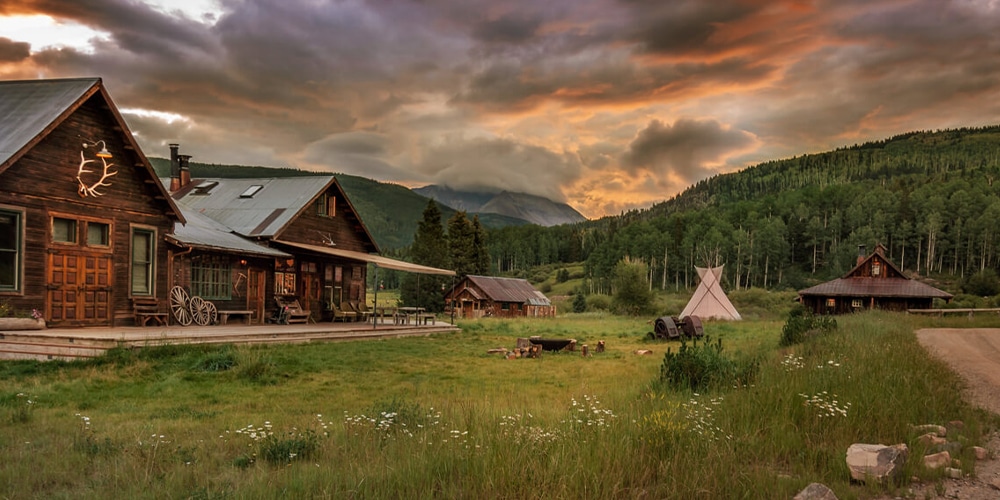 Click here to visit the website of Dunton Hot Springs.
Sextantio Le Grotte Della Civita, Matera, Italy
Le Grotte Della Civita is situated in Matera, a location famed for the numerous dwellings made out of the local cave systems. Some of the walls are made up of stone blocks but many of the rooms are hewn from living rock. Le Grotte Della Civita is a hotel where guests can experience a stay in these very caves. The furnishings and fixtures are high-end and luxurious, while the renovated cave dwellings are carefully preserved.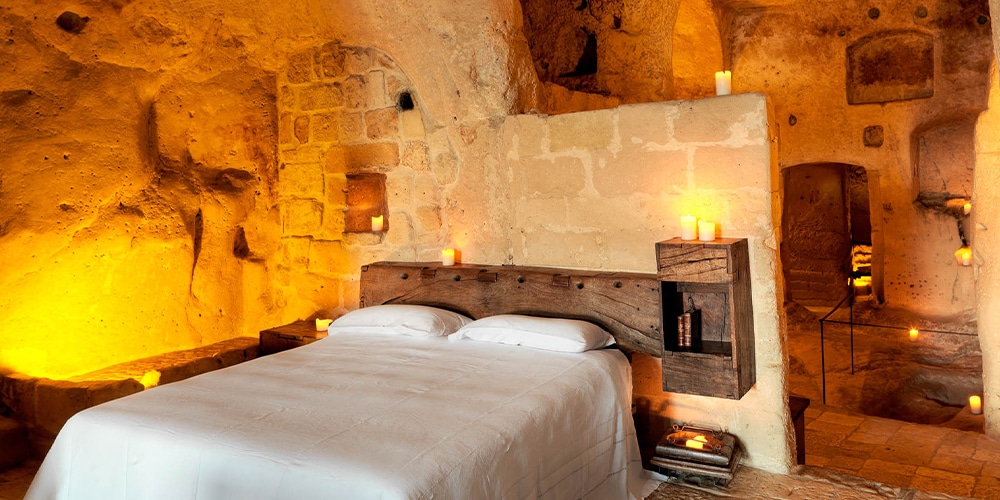 Click here to visit the website of Sextantio Le Grotte Della Civita.
Dhara Dhevj Resort, Chiang Mai, Thailand
This resort sprawls over a full 60 acres of the Thai landscape. It's intended to provide visitors with a taste of Thai cultural heritage. Guests can experience a stay among exotic plantations, rice paddies and tropical hardwood trees. Attractions include a Thai shopping village, a school teaching authentic Thai cooking, and a large spa facility.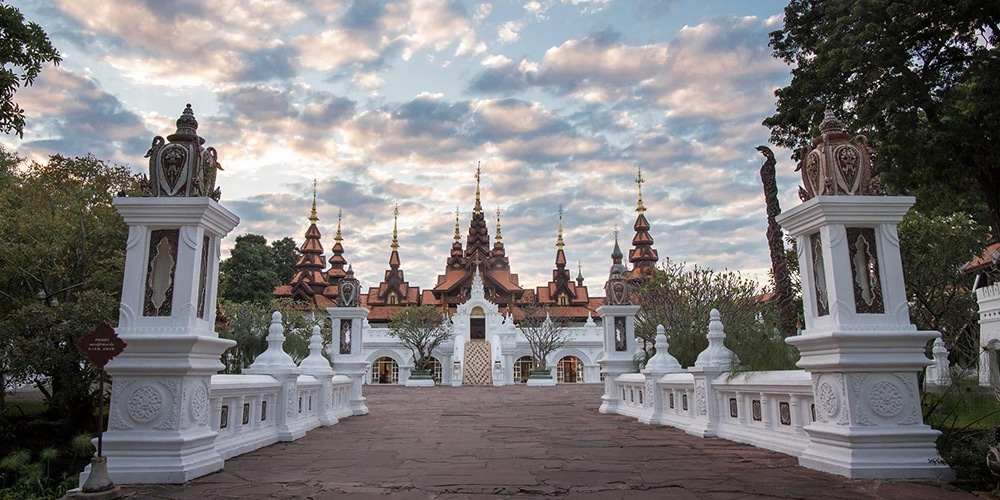 Click here to visit the website of Dhara Dhevj Resort.
Dromoland Castle, Ireland
Dromoland Castle was once the ancestral home of the Dromoland O'Briens, descendants of Brian Boru. The castle retains its baronial exterior and the interior has been fitted out with all modern conveniences. Guests can walk through the sprawling grounds, participate in activities like the Royal Family Falconry Experience or simply take tea by a roaring fire.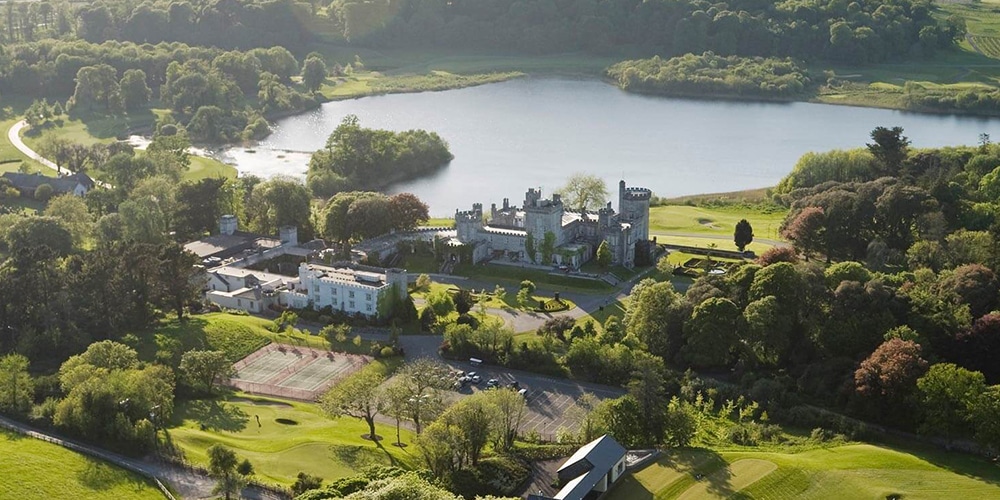 Click here to visit the website of Dromoland Castle.
Hoshi Onsen, Japan
Hoshi Onsen is a 140-year-old cultural site. The inn offers luxurious accommodation and traditional hot spring baths. This hotel's cool factor comes from the emphasis on Japanese tradition, even including a common area with a sunken hearth. The inn is decorated with calligraphy from Meiji-era poets and features Shinto household altars.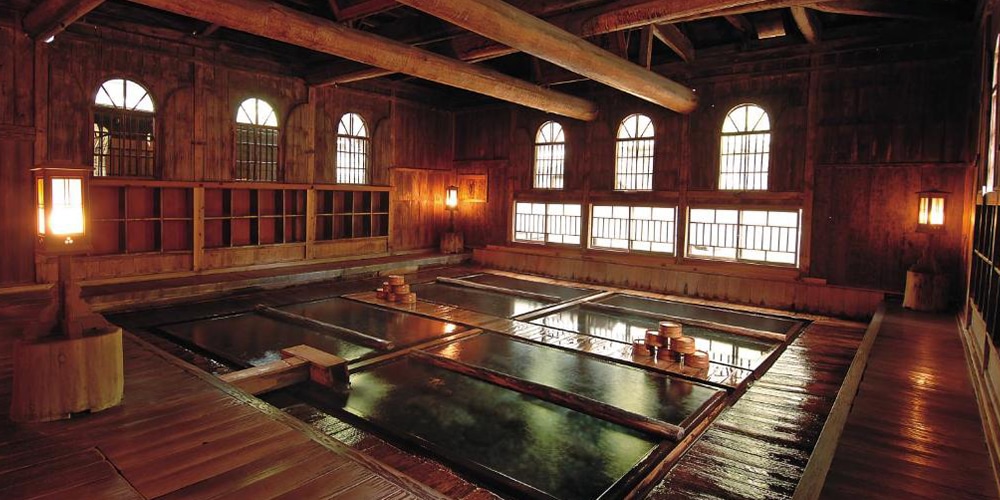 Click here to visit the website of Hoshi Onsen.
Cool Boat Hotels
What could be more appealing than staying onboard a boat? Cruises through beautiful natural surroundings and floating "botels" are just two examples. From wooden houseboats to floating apartments, here is a selection of the coolest hotels on the water.
Amazon Boutique Hotel Boat, Peru
The Aria Amazon is a custom-built river cruise ship, designed by architect Jordi Puig. The ship was created to offer a spectacular Amazon experience while having the lowest possible impact on the delicate local ecosystem. Suites are fitted with floor-to-ceiling windows so guests can enjoy the full splendour of the Amazon and its rainforest surroundings.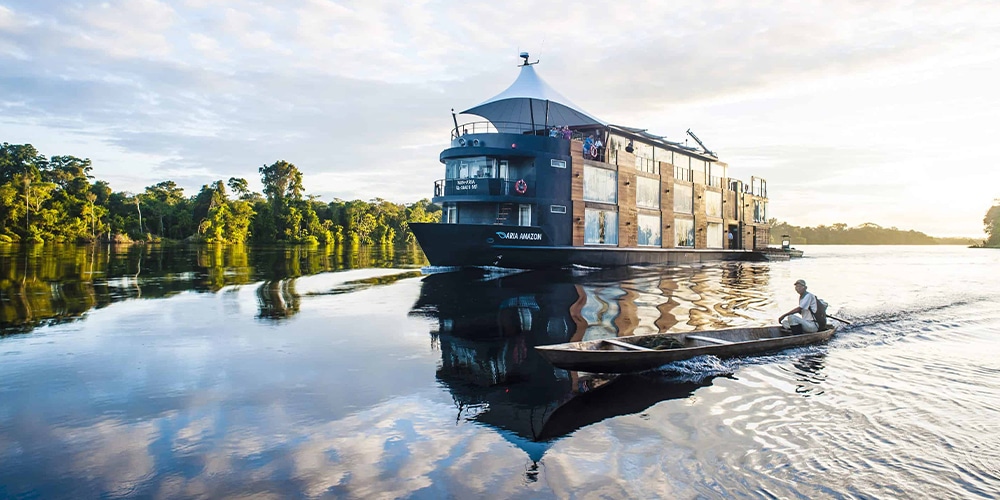 Click here to visit the website of Amazon Boutique Hotel.
Botel Matylda, Praha, Czeh Republic
This floating hotel is the perfect way to experience Prague. There are two ships, the Matylda and the Klotylda, offering standard rooms and suites. Accommodations are furnished in an Italian style and the restaurant serves high-end Italian cuisine. The location, in the centre of Prague, makes Botel Matylda the ideal base for exploring the city.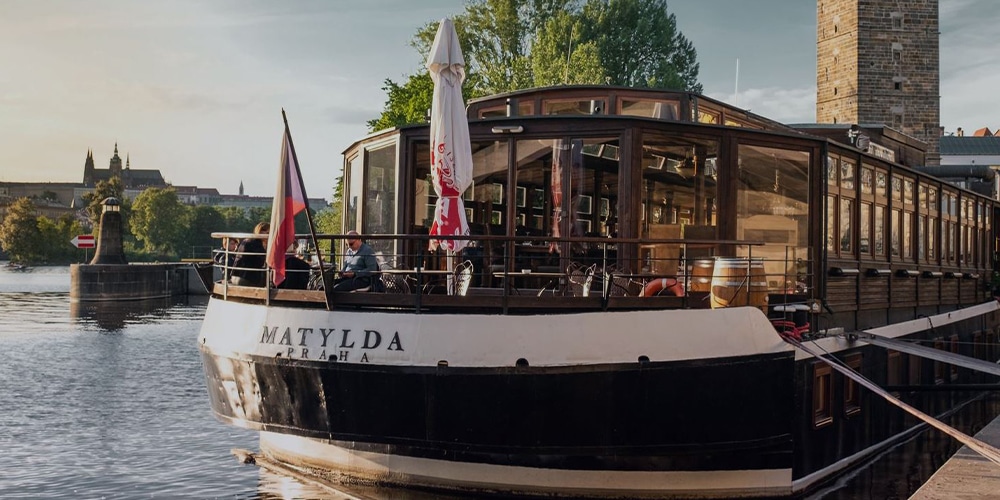 Click here to visit the website of Botel Matylda.
Arkabarka, Floating Hostel, Belgrade, Serbia
The Arkabarka, Floating Hostel consists of two boats offering different facilities. The Arkabarka Hostel, a floating wooden structure, has a lively atmosphere with vibrant decor; hand-painted walls provide an artistic feel, and each room has its own creative concept. There's also the ArkaBarka2 Floating Dream Apartments for larger and more luxurious suites.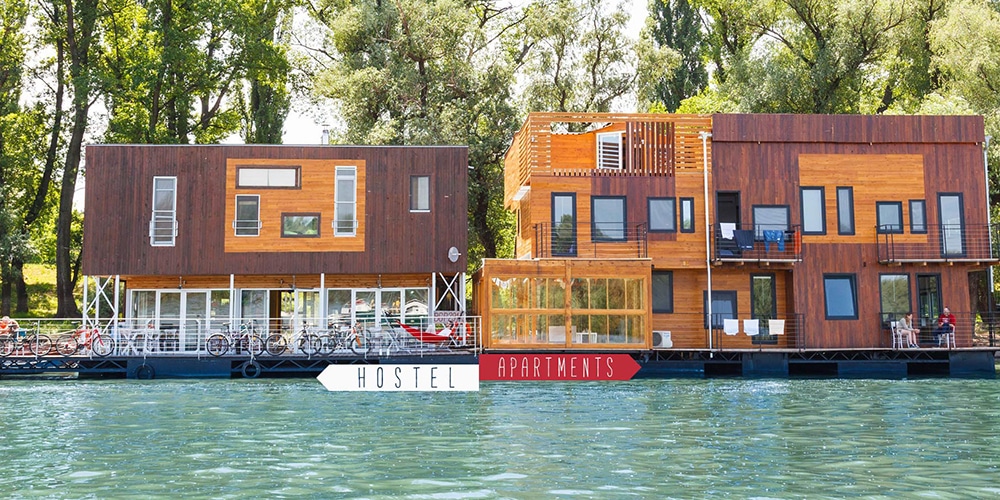 Click here to visit the website of Arkabarka.
Xandari Riverscapes, India
Xandari Riverscapes offers accommodation on Kettuvallams, and traditional Keralan houseboats. Each boat is made using locally sourced materials. Crews and even the chef are members of the local community. Guests can enjoy trips across the Vembanad and nearby waterways. It's the perfect way to enjoy the Kerala scenery and wildlife.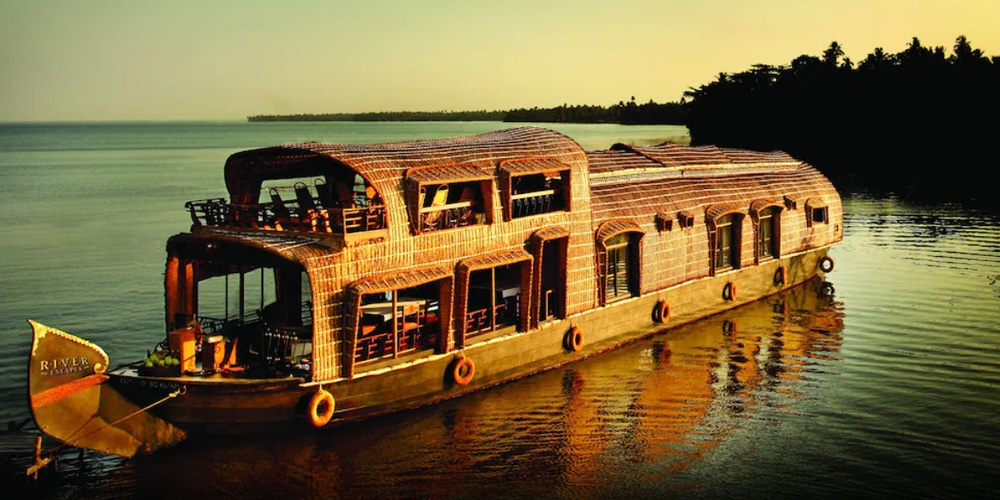 Click here to visit the website of Xandari Riverscapes.
Zambezi Queen House Boat Experience, Zimbabwe
The Zambezi Queen allows guests to travel the Chobe River in style. It's a large houseboat providing water safari experiences. The rooms are luxurious and spacious, while there are plenty of facilities such as a plunge pool and social spaces on the upper deck. It's essentially a floating boutique hotel, providing an unforgettable way to enjoy the African scenery.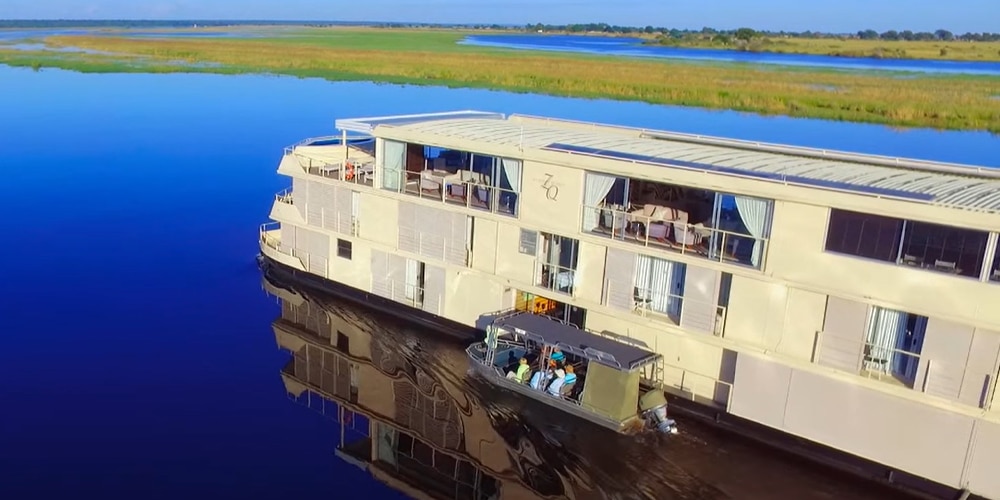 Click here to visit the website of Zambezi Queen House Boat Experience.
Cool Hotels Inspired by Extraordinary Architecture
Sometimes a hotel's cool factor comes from its architecture. Historic buildings can provide inspiration, while other hotels are inspired by the local landscape. Materials and items can also influence architecture. Many hotels are created based on a particular philosophy, such as environmentalism.
Ice Hotel In Jukkasjarvi, Sweden
Constructed from the ice of the Torne River, the Ice Hotel is one of the most famous seasonal resorts in the world. Guests stay in rooms built from ice, sleeping on beds made from ice blocks (insulated with furs). Even the shot glasses in the bar are made from ice. Initially, the Ice Hotel was strictly a winter experience. In 2016, however, Icehotel 365 was opened for year-round stays, using solar power to maintain the freezing temperatures required.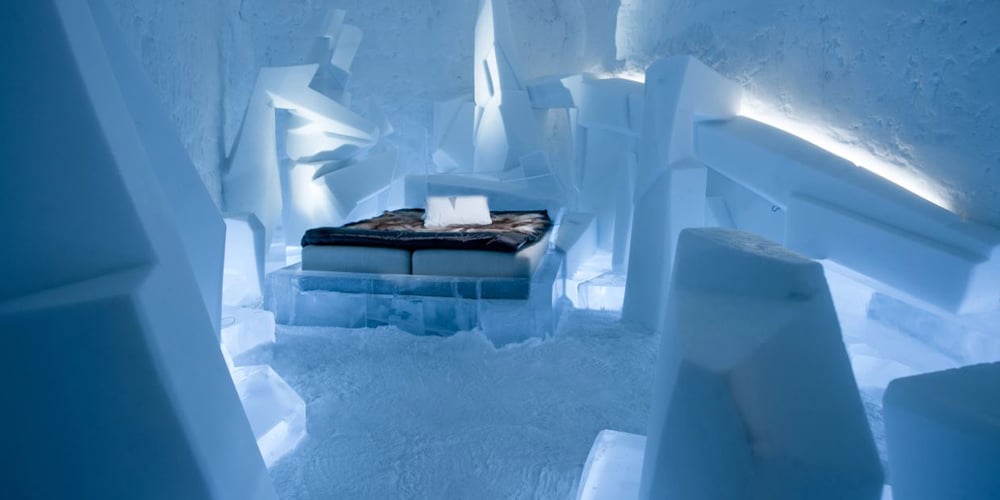 Click here to visit the website of Ice Hotel.
Mirrorcube Tree House Hotel In Sweden
The Mirrorcube Tree House Hotel is certainly unique. Its rooms consist of wooden tree houses whose square walls are covered in reflective one-way glass. Guests can look out from six large windows to enjoy the beautiful forest surroundings, including the stars and Northern Lights overhead. Meals are served at the nearby Britta's Pensionat, and there is also a sauna, bar and other facilities for guests.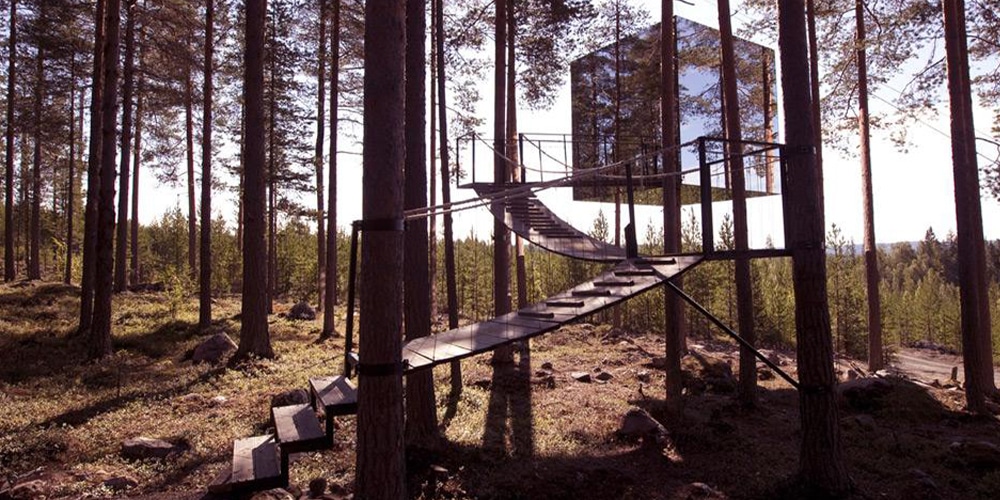 Click here to visit the website of Mirrorcube Tree House Hotel.
727 Fuselage Home, Costa Rica
727 Fuselage Home is a two-bedroom adventure location made from a salvaged Boeing 727. Its location, on a bluff between the Pacific Ocean and Manuel Antonio National Park, provides spectacular views of the jungle and the ocean. While "salvaged aircraft" might not suggest luxury, the furnishings and amenities are top-of-the-line. The aircraft's position, jutting out from the forest canopy, gives guests a sense of being airborne while firmly on the ground.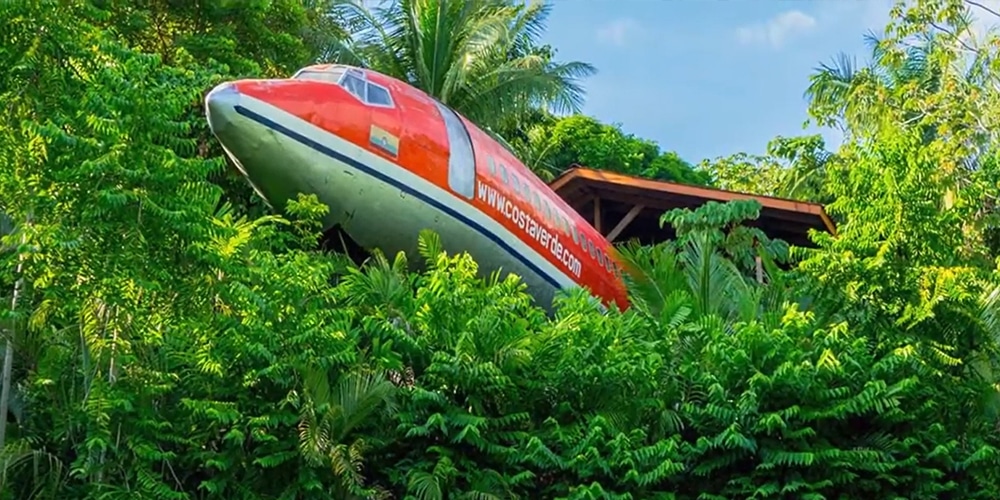 Click here to visit the website of 727 Fuselage Home.
Hang Nga Guesthouse, Vietnam
A remarkable structure, Hang Nga guest house, or "Crazy House" in English, was designed to resemble a huge tree trunk. Its organic lines, clusters of oblong windows and emphasis on natural forms make it absolutely unique. There are twin themed guest rooms inside, each with handcrafted furniture and decorations. Guests can stay in rooms with names like The Eagle Room or the Tiger Room. The hotel is the work of architect and impressionist artist Dang Viet Nga.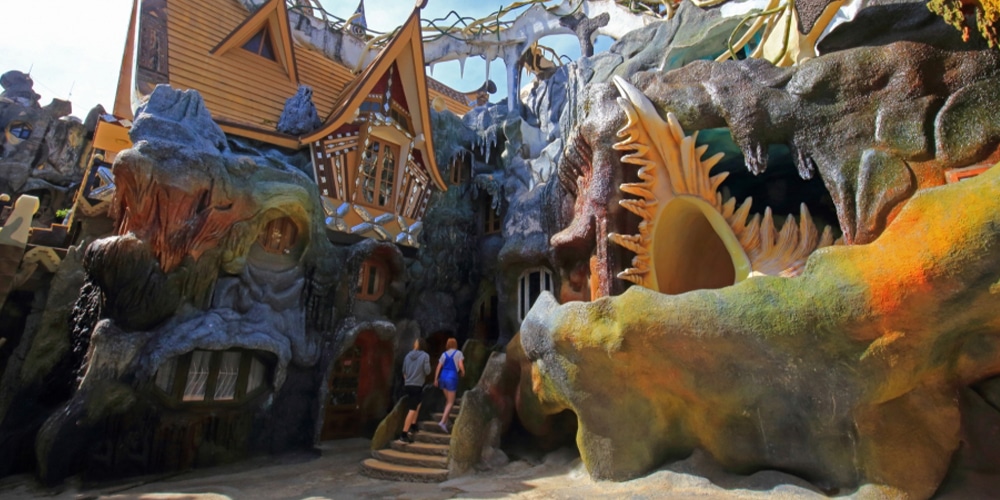 Click here to visit the website of Hang Nga Guesthouse.
Tubohotel, Mexico
Tubohotel's name is taken from its unique construction. It's a pyramid of gigantic concrete tubes arranged to form a pyramid. It's located in Tepoztlán, Morelos. The hotel emphasises sustainability and connection with nature while offering high-end accommodation. The hotel has a pool and a sunbathing patio where guests can relax, as well as outstanding natural surroundings.
Click here to visit the website of Tubohotel.
What makes a hotel coo