Omnichannel communication and artificial intelligence enable hotels to deliver a much more engaging e-commerce experience and increase direct online bookings by 10% on average. In this article, you'll find tips to increase direct hotel bookings with AI and omnichannel communication.
Attract More People to Your Direct Reservation Process Through Omnichannel Engagement
To increase direct sales, the first thing to do is to make sure you leverage all the direct sales platforms at your disposal. Having a quality website and a relevant online presence is just the first step.
The massive use of smartphones has allowed social media and messaging platforms to grow massively, and this is an opportunity for most hotels to expand their surface of contact with customers and drive engagement.
We are not talking about posting pictures on Facebook but rather using the messaging part of these media to engage customers in a personalized interaction with your brand.
This is where your omnichannel customer experience takes place: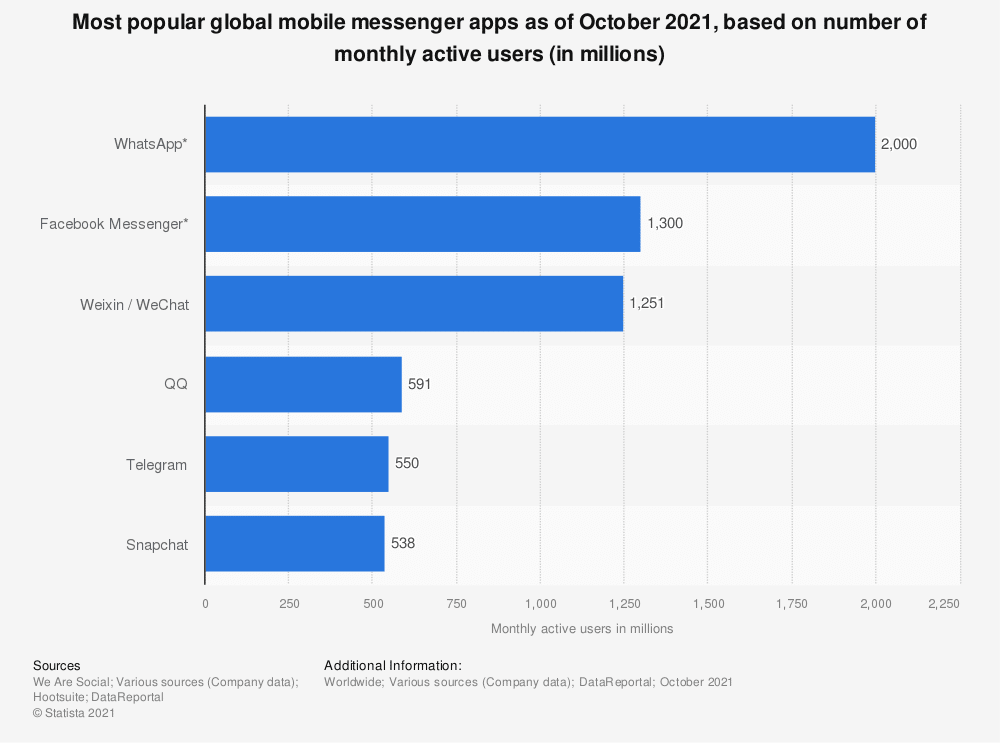 Most popular global mobile messenger apps in 2021, Statista
Of course, mobile has specific rules that hoteliers must master:
Delivering fast and relevant information on-demand: The computer-facilitated search; smartphones are meant primarily to enable interactions. That's why conversational selling is growing exponentially.
Proactively engage and guide hesitant customers through your direct sales funnel.
Proactively follow-up with personalized content to re-engage customers that didn't convert instantly and close the deal. When you have customer contact, you can proactively follow up and close the deal (provided you thought about getting the GDPR opt-in).
For a sale to happen, you need 3 things:
Willingness to buy
Capability to buy
Trigger
By targeting customers who are unsure or have difficulties buying and proactively guiding them through the reservation process, you optimize these 3 elements and increase conversion mechanically.
Optimize and Scale Customer Engagement With AI
At an age of assistance and instant gratification, you have to deliver the information that every customer requests easily and fast, 24/7. Human staff can't handle this kind of pressure. This is where AI kicks in. Not to replace your staff, but rather to expand your reach.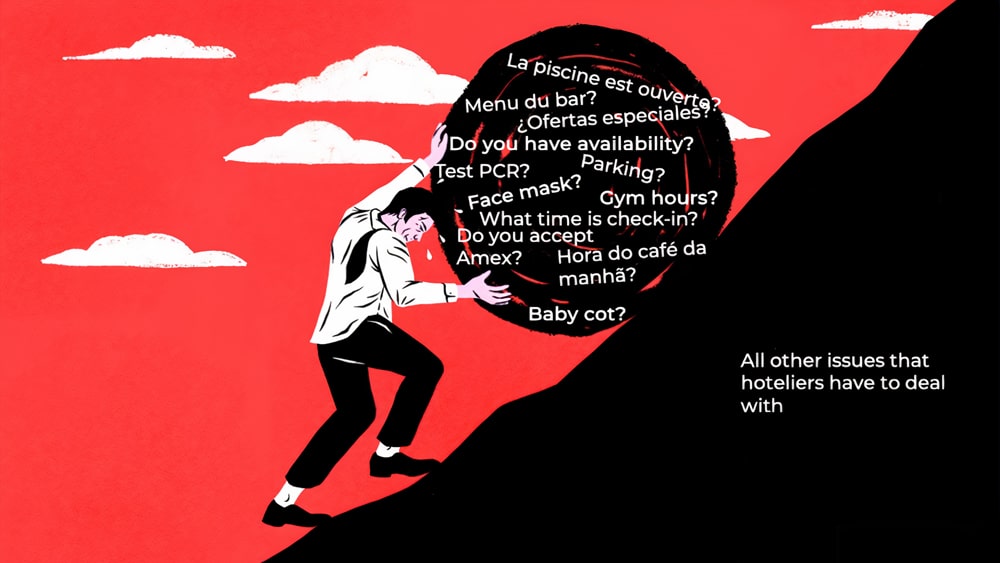 The tragedy of hotel front desks: Machines are not taking the job of humans. Instead, for way too long, humans have been doing the job of machines for lack of automation. The role of AI is not to replace but rather to support hotel staff so that your team can focus on valuable tasks.
AI can easily manage repetitive requests, help undecided customers clear their doubts, and guide them through your direct reservation process.
Amongst other benefits, AI helps you:
Deliver relevant information instantly, 24/7 to your guests via an AI-powered chatbot on your website, and every messaging platform,
Expand your sales pipe to attract undecided customers: when efficiently created for conversion purposes, Conversational AI will generate additional direct sales without any effort required.
With this AI-powered infrastructure in place, your omnichannel customer experience improves customer satisfaction and direct revenues.
But what happens to prospects that don't pull the trigger on the spot?
Maximize Conversions With a Data-driven Sales Approach
Customers that didn't complete their bookings are not lost clients – they are leads. Therefore, your hotel needs to capture relevant information from prospects, and use it in a smart re-engagement process to convert them into guests.
Once again, AI does an outstanding job at this.
Through conversations, AI automatically captures names, email, phone, key interests, travel dates, customer opt-in, and the potential value of the reservation. These data are essential to enable a data-driven sales follow-up process.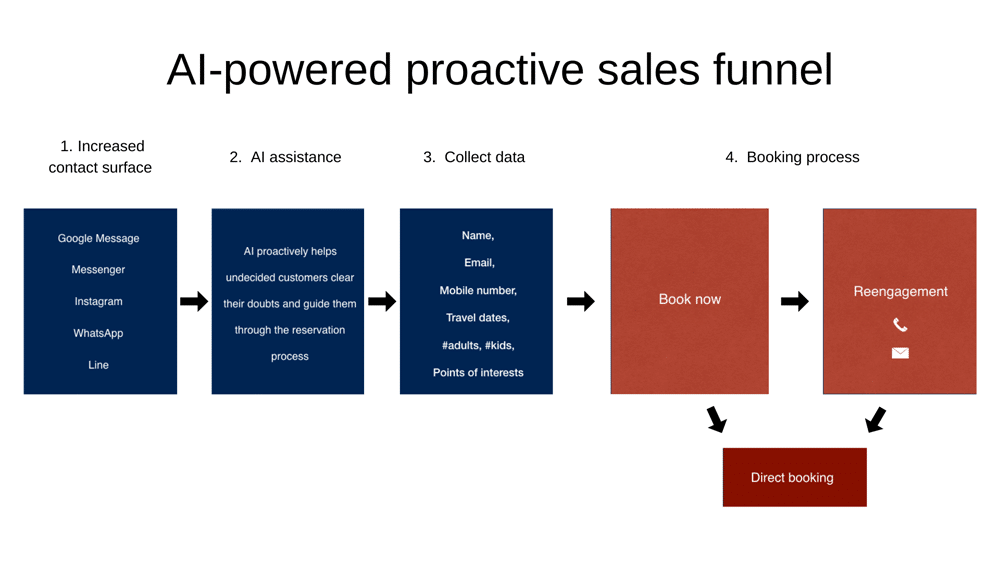 AI-powered proactive sales funnel, Quicktext
An effective AI infrastructure allows you to react fast, and contact prospects with relevant information. Every booking request made through AI-powered messaging platforms generates a lead email, allowing the commercial team to follow up.
Typically Booking requests are treated as follows:
Below a certain amount defined by the hotel, email automation is triggered.
Above a certain amount, the hotel call center or reservation team is notified to call back.
As soon as the first contact is established, you become able to re-engage your prospects successfully and improve your direct conversion rate.
Free Hotel Case Study

: Increase Direct Bookings by Implementing an AI Chatbot

Hotel Zafiro adopted an AI chatbot to increase direct bookings and overall customer experience. They improved their instant guest service, reduced operational costs, and increased direct sales by 11%.

Download the following case study of Zafiro hotel to know more about how it impacted their direct sales, productivity, and guest satisfaction. Click here to download the case study "Increase Direct Bookings by Implementing an AI Chatbot".

We are coming out of a tremendous crisis in which the digital world has advanced globally and is not about to go backward. The booking process of your guests has changed accordingly, and AI and Big data technologies provide the right tools for the hospitality market to stay up-to-date.