Motels function as overnight accommodation for motorists and continue to play an important place within the wider hotel industry. In this article, you will be able to obtain a clear motel meaning or definition, gain insights into the history of the motel industry and the current role of motels, and learn about the motel technology that is shaping the future.
Quick Menu
Motel Meaning
A basic motel definition can be obtained by the fact that the word itself is a portmanteau, or blend of words, with motel meaning 'motor hotel'. Essentially, motels are hotels specifically designed to cater to the needs of motorists. They are often situated near major roads or along popular routes.
While layouts can vary, most motels will have rooms accessible directly from the car park, as opposed to the conventional hotel layout, where rooms are accessed after going through a central lobby. These properties are also optimised for short stays, and many guests will only stay for one night before continuing their journey.
In general, motels tend to have lower room rates than hotels, and the range of services on offer will also be smaller. Food services, for example, may be limited to a very basic breakfast or may not exist at all.
Video: Motel Meaning
A Brief History of Motels
By definition, motel or motor hotel properties have only existed in relatively modern times, as the concept itself was designed to cater to motorists' needs. Dictionaries only added a motel meaning or definition in the years after the Second World War. Nevertheless, the very first motel property to be recognised as such was the Milestone Mo-Tel in San Luis Obispo, California, USA, which opened its doors to guests back in 1925.
Motels then formed a significant part of the expansion of the hotel industry in the years that followed. As the American road system saw a more substantial number of highways being built and as long road trips became more common, these travellers needed purpose-built overnight accommodation, and motels were able to fill this void.
The motel concept continued to grow in popularity for several decades. However, a decline started in the second half of the 20th century, as budget hotels and other forms of affordable, convenient accommodation emerged.
Motel Meaning in the Modern American Hotel Industry
With the popularity of motels peaking between the 1950s and 1960s, the business has subsequently been adversely affected by several significant hotel trends, including the emergence of budget hotels, the development of chain hotels, and the appearance of hotels in convenient locations for motorists; often offering a greater range of services.
In subsequent decades, this decline continued, especially as new road systems meant that many once-popular motels were not necessarily even situated in convenient locations anymore. All of these challenges have started to add up, meaning motel businesses now face a battle for relevancy within the modern American hotel industry.
With that being said, motels do still have unique qualities. It remains the case that most motel properties have rooms directly accessible from the car parking area and still serve as affordable accommodations. Additionally, the cultural significance and motel meaning to popular entertainment over the years have helped these businesses find their place in the modern American hotel industry, especially among those embarking on long road trips.
For instance, it is not uncommon for tourists travelling across the United States to plan stops at multiple motels along the way. Meanwhile, some motels have embraced the chain hotel concept and have become chains for large hotel companies, where they provide a combination of motel and hotel services.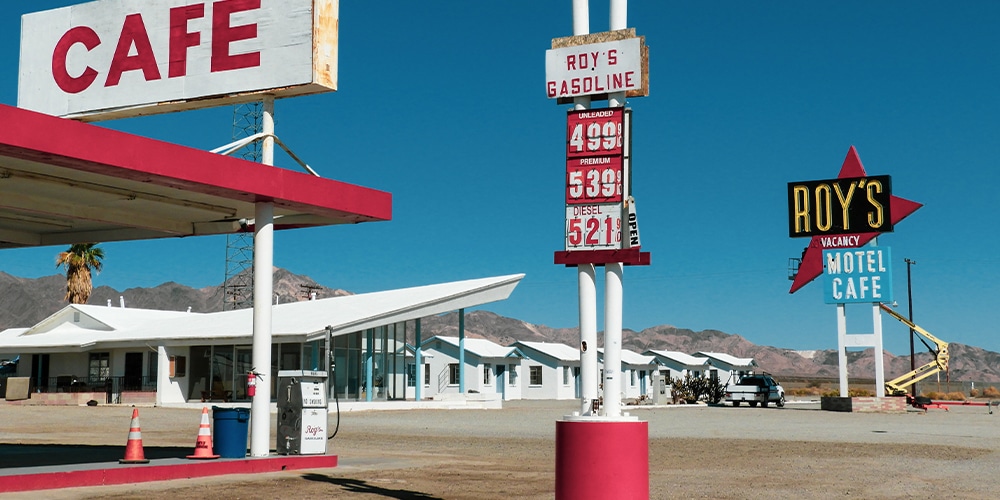 Motel meaning: Motel Example
Hotel Technology and its Meaning to Motel Innovation
Various hospitality trends have started to impact motels, with technology being one of the most significant examples. Modern motel guests expect a certain level of service, and these expectations have been greatly influenced by the type of experience they receive from contemporary hotels and similar properties.
For example, within the hotel sector, it is becoming increasingly common for mobile check-in options to existing, and motel customers are beginning to expect the same level of seamless check-in without having to deal with reception staff.
Within motel rooms, guests are starting to expect wi-fi to be available, and they may want smart devices to be present. Meanwhile, motels that operate as part of a larger hotel chain may also offer their mobile app, allowing guests to access services from their phones and generally reducing the friction involved in staying in a motel.
Meaning of Motel Management in the Hotel Industry
Management positions within motels are similar to within the hotel industry, with the management of a motel meaning overseeing all operations within the business. The responsibilities of a motel manager include dealing with employment issues, recruiting the right staff, managing supplies, and devising core business strategies.
In addition, the definition or meaning of motel management will include monitoring finances and making key financial decisions, reporting to key stakeholders, and providing training and coaching activities for staff.
Ultimately, managers are largely responsible for the success or failure of a motel. They must take care to manage the motel's reputation and its relationship with customers, and they will need to contribute to marketing efforts. Although there are no strict entry requirements, significant experience and/or a relevant degree are advantageous.
Property Management Systems in Motels to Maximise Operations
A property management system is one of the most critical investments for those in the industry, helping to bring together many different processes under a single umbrella. In many ways, a PMS can serve as a central hub, connecting a booking system to company databases so that information is always fully up-to-date and accurate.
Various management and administrative tasks can be performed using the software, including revenue management and front desk operations. It should be possible to view the status of motel rooms, access customer data, and allocate specific jobs to individual employees, including housekeeping tasks, like cleaning rooms.
Furthermore, many property management systems will utilise artificial intelligence and machine learning technology. The various resulting automation options mean core motel processes can be carried out without requiring manual intervention. This can improve overall efficiency and reduce the demands placed on employees.
How to Hire the Best Motel Staff
Employees within a motel can shape the guest experience and make or break the business itself, meaning motel recruitment efforts need to be taken seriously. In particular, motels need to be clear about what they need from staff and for recruiters to create a clear job description and use different recruitment channels.
In the article "How to Hire the Best Hotel Staff for Your Hotel?" you will be able to access some general tips for recruitment within the hotel industry, including insights on the importance of defining each role, advice on how to carry out compelling interviews, and strategies for onboarding new hires and training them up to full competency.
Social Media Strategies for Motels
Online marketing is an essential component of business success, with modern customer demands for a motel meaning properties should have a social media presence. Furthermore, it is important to adopt the right strategies, which can include providing fresh content, utilising videos, capitalising on the latest travel trends, and tracking competitors.
In the article "8 Social Media Strategies For Hotels to Engage With Guests", you will be able to learn about the role of social media and explore the top strategies that should be adopted to get the most from these platforms.
Although motels reached the peak of their popularity in the mid-20th century, they still have a vital role to play in both the hotel and tourism industry. Motels will usually target their services towards the needs of motorists, with motel meaning 'motor hotel', and these properties often provide short-term, budget-friendly accommodation.