You probably already know that adjusting your room rates based on demand fluctuations can boost your revenue. But have you ever thought of applying this approach to upselling? And what about taking things yet another step further and using the principles of open pricing on upselling as well?
Keep reading to discover how these techniques can take your revenue strategy and top line to the next level.
The Role of Upselling in Revenue Management
Upselling is an essential driver of ancillary income and can significantly increase your overall revenue and profitability. It allows you to maximize earnings during the high season and make the most of each booking even when there is low demand.
Upselling travellers to higher room categories also frees up your standard rooms for resale. This can help you get more new guests in the door, increasing your hotel's chances of filling. Along these lines, offering paid upgrades is a way to avoid losing out on revenue from bumping guests up for free.
Using an automated upselling platform is the easiest way to realize all these benefits of upselling at your hotel. These tech tools automatically reach out to your guests pre-arrival. Then they promote your paid upgrades at the ideal time and update a traveller's booking if they opt in. The best thing about this tech-driven approach is to maximize ancillary revenue without burdening your team with additional manual work.
As you can see, implementing automated pre-arrival upselling is a significant step in levelling up your revenue strategy. Once you've done that, it's time to move on with another innovative approach.
How to Supercharge Your Revenue Strategy with Open Pricing
Traditionally hotels use the best available rate (BAR) as their pricing hierarchy's foundation. All other rates change in lockstep via fixed category supplements or pre-set discounts.
Open pricing does away with this rigid concept. Instead, it encourages flexible pricing based not only on demand, but also on room type, guest segment or booking channel. This allows you to get more granular with your dynamic pricing and make the most of all types of demand shifts.
Since this sounds rather abstract, let's look at an example.
Open Pricing in Action
During the week, the Park Hotel welcomes mainly business travellers who prefer to stay in superior rooms. It attracts more leisure travellers who want to splurge and prefer junior suites on the weekends. In this situation, most hotels would apply their fixed category supplements for their superior rooms and junior suites. They're not accounting for the changing guest mix and the resulting shift in demand for the two-room categories.
The Park Hotel would charge a higher supplement for the more popular room type with open pricing. In this example, the mark-up for the superior rooms would be higher during the week. At the same time, junior suites would be priced only slightly higher than the next lower category. On the weekend, it would be the other way around.
The difference between standard and superior rooms would be smaller, while the difference between the popular junior suites would be more significant. In each case, the Park Hotel boosts occupancy on one room while driving the rate on the other.
That creates benefits for both sides. For a small surcharge, guests get exactly the room they want. Travellers who are price conscious get a better deal. And the hotel can drive extra revenue from existing room categories.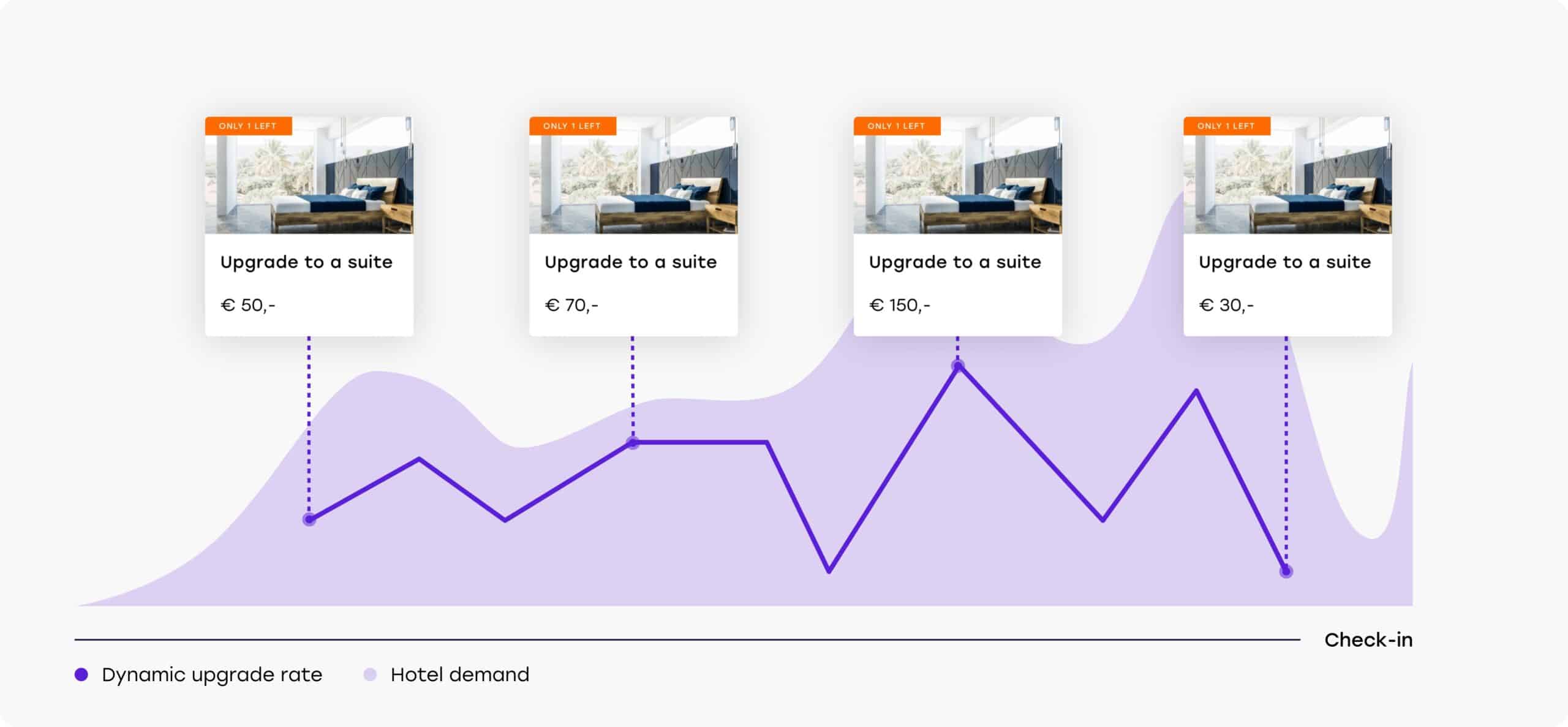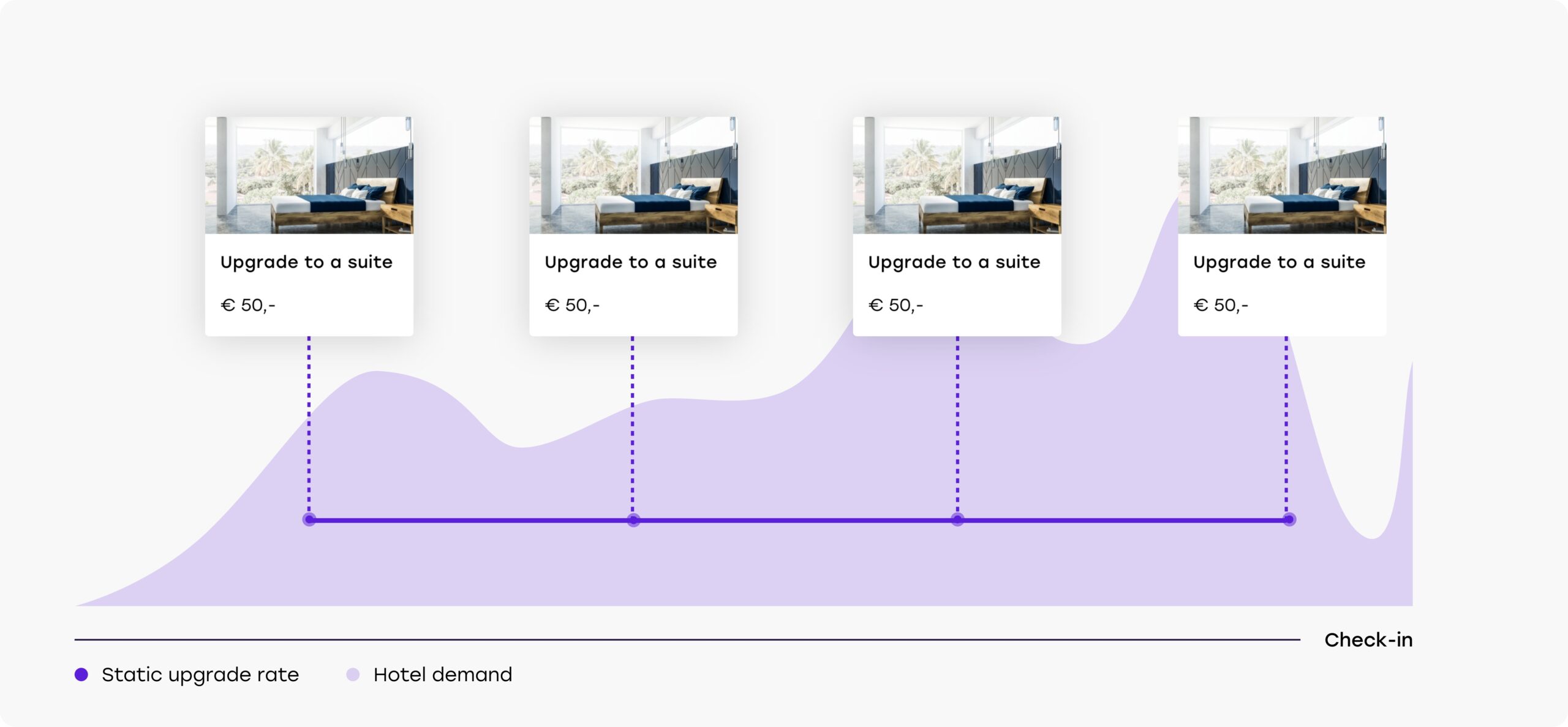 While this approach has the potential to boost your income significantly, it's hardly possible to do it manually. This is where cutting-edge revenue management systems (RMS) come in. They evaluate demand shifts and your availability to yield in more creative ways and create new chances to maximize revenue.
Skyrocket Your Upselling Results with Open pricing
Many hotels use static room category supplements to price their upsells. They don't factor in demand shifts or availability. While upselling this way can already bring good results, it still leaves money on the table.
"Very few hoteliers have a personalized upselling strategy, and even fewer hoteliers are selling dynamically priced room upgrades and ancillary services," said David Woolenberg, CEO, Duetto.
Now imagine you could apply open pricing to upselling as well. Again, it would be nearly impossible to get this right by doing it manually. But if you can integrate an RMS that supports open pricing with your upselling platform, you can fully automate the process. That means the rates for your upsells follow your dynamic room prices. As a result, you can extend rate optimization to another touchpoint of the guest journey.
3 Benefits from Upselling with Open Pricing
Here's how you benefit from upselling with open pricing:
1. A refined upselling strategy: basing prices for all room categories on your BAR and adjusting rates according to demand, puts you in full control of your rates. This is also reflected in your upselling, where you can price supplements for different room types independently of each other. Rather than charging a fixed amount, it's possible to adjust it by demand level, the guest segment or the distribution channel. In short, you can create a whole new rate strategy specifically for upselling.
2. Reduced upgrade denials: when your RMS and upselling platform integrate, they automatically share availability data in real-time. That way, guests only see upgrade options that are currently available. This makes the process smoother because they're more likely to get the paid upgrades they try to book. Hotels using this technology see a 34% drop in rejected upsell requests.
3. Increased ancillary revenue: dynamic rates in upselling can boost guest spending per upgraded night by up to 45%. And all this happens in the background, without your team having to complete any additional manual tasks.
Free Webinar: Optimizing Your Tech Stack for Total Profitability
Upselling platform Oaky and RMS provider Duetto have seen their clients achieve such results thanks to the systems' recently launched integration. They'll show how you can implement open pricing and see similar results at your hotel in their upcoming webinar. Register now to take your revenue and upselling strategy to a new level.
Especially in challenging times, it's crucial to stay on top of the slightest market fluctuations and make the most of every demand shift. Open, dynamic pricing is an effective way of doing that. And if you automate the process, both your top line and your team will benefit immensely.