Customer behavior is evolving from search to interaction, and mobile is driving this shift. Hotels that rethink their guest communication to meet new and evolving behavior will boost their hotel visibility and drive their direct bookings. In this article, we reveal the mobile behavior trends shaping the hospitality industry and how hotels can leverage them to improve their guest experience and increase direct sales.
The Rise of the Zero-Click Search
When you Google something, do you happen to read the first answer that shows up on top without clicking on anything? That's Zero Click Search, and it is becoming more and more prominent. But, what does that mean for hotels?
What are Zero-click Searches?
A Zero-click search is when the answer to a search query is displayed directly at the top of the search results page. They answer users' queries quickly without requiring further clicks. Results displayed this way are called "featured snippets" or "Position Zero" because they appear above the traditional #1 spot.
According to a SparkToro study, nearly 65% of Google searches ended without a click in 2020, and the number is especially high for mobile searches.
So, Why Should Hotels Care?
On the surface, with more than 50% of Google searches not leading to a click to another website, this could mean less traffic for hotels. But this may not be the case. Hotels that appear at the top of search results to answer customer queries will increase their visibility and get more clicks from organic search results.
Let us compare two options for when a customer looks up information about your hotel.
For example: What is The Check-in time at a specific hotel?
Option 1: The first answer provided can come from an OTA (Online Travel Agency), Trip.com, in our case.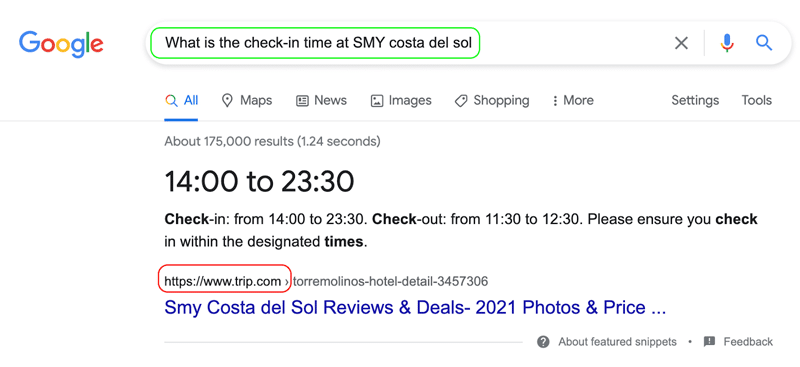 Or, Option 2: The hotel will show up at the top to answer the customer queries.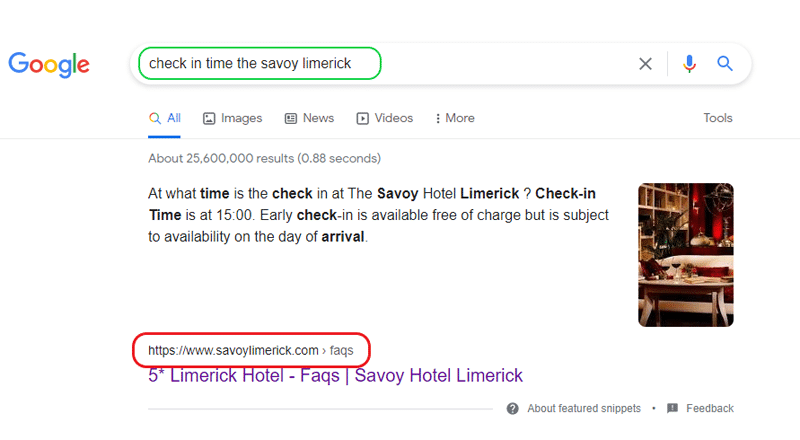 In the first option, when OTAs answer your customer queries, this diverts traffic from your website.
On the other hand, when your hotel shows up in position #0 or "Featured Snippets" to provide support, you will gain visibility and become an authoritative source of information about your property.
4 Tips to Rank Your hotel in Google's Featured Snippets?
Below, we share practical tips to optimize for featured snippets and how hotels can leverage Artificial Intelligence to rank in position #0 easily and quickly.
Tip 1: Optimize your Hotel Website Content
To optimize your hotel website content for featured snippets, be sure to:
Target question-type queries (check-in time, local attractions, nearby transportation, etc.)
Provide concise answers for search queries
Publish customer reviews and testimonials
Keep your content fresh and up to date
Tip 2: Implement Structured Data
Structured data, also known as Schema markup, is a code that hotels embed on their websites to help search engines easily understand the content and elements of the hotel website and how they meet query intent. Implementing structured data into your website will allow your hotel to stand out on the results page, driving more traffic and clicks to your website.
Tip 3: Add an FAQ to Your Website
An FAQ page will allow customers to quickly find answers about your hotel, helping potential guests make a quick booking decision. Most importantly, FAQs tell Google that you are the authoritative source for questions about your hotel, which ranks your website on position zero and thus drives traffic to your website directly.
Also, make sure to put your FAQ on the main page of your website. If you are a hotel group, you can place it on the page dedicated to each hotel.
Tip 4: Create Click-Worthy Meta Descriptions
Meta descriptions are text snippets that briefly describe the content of the web page. This description appears below the page title and URL in the search results.
Well-written meta descriptions can raise your ranking on Google and entice the reader to click on your website, which results in increased traffic and direct bookings.
Snippets Powered by Artificial Intelligence
What if you could use AI to automatically adjust your FAQs to actual customer interests and increase your visibility on search results, which in turn would help you drive traffic and direct bookings?
AI-powered snippets maximize the hotel's chances of appearing at the top of Google search results by displaying the hotel answer on Position #0, directing customers to the hotel website and not through a third party.
From Search to Interaction
Consumers Have Changed the Way They Consume Information: From Search to Interaction. Thanks to mobile, people can consume digital content at any given time.
For hotels, this means an opportunity to show up and provide support during travelers' micro-moments. Most hotels are aware that Google My Business listings are key to rank higher in search results and retain customers.
Google My Business (GMB) for Hotels
With Google My Business, hotels can list important information such as contact details, location on Google Maps, hotel photos, guest reviews, the website link, etc., allowing customers to see the information they need at a glance. Listing is free and allows your hotel to gain visibility on Google, making it easier for guests to reach out to your business.
However, very few hoteliers are aware that GMB launched a powerful chat feature.
Google My Business Chat
Google My Business Chat is a new communication channel launched by Google, allowing customers to interact with your hotel directly in Google Search or Google Maps in just one click. When the chat feature is enabled, travelers who search for your hotel on Google will have the ability to message you directly.
Tapping on the message icon will prompt a welcome message from the hotel, inviting the customer to ask a question or voice a concern.
5 Good Reasons Why Hotels Should Use Google My Business Chat?
Below you find 5 reasons why hotels should consider Google My Business Chat.
1. Engage With Your Customers
Mobile customers are no longer satisfied with a search-only experience, they expect interaction. Customers don't want to wait on the phone or dig through your website to find the information they need. Through the messaging feature, hotels can connect with their customers directly and respond to their queries quickly.
2. Drive Your Direct Bookings
Having a direct line of communication allows your hotel to convince potential guests to book directly with you rather than through a commissioned OTA.
Business Messages also supports powerful features like cards, carousels, photos…helping your hotel capture more direct bookings and upselling opportunities.
3. Deliver Instant & Personalized Support
Customers want a quick and accurate response, and these expectations have been exacerbated with the cautious traveler that spends more time planning a safe trip.
So, if you want travelers to choose your hotel, you need to deliver quick and personalized support. Customers will also see how responsive you are on your Google My Business listing, so it's important to be reactive.
4. Reduce Staff Workload
When you consider the mobile experience and check Google My Business, you will find that interaction channels are customer favorites.
The issue with the call button is that it generates extra work at the front desk or call center.
If you enable chat and connect an intelligent chatbot, you will offer an alternative to calling, which many customers prefer, while saving your staff hours of work each day.
5. Automation is Key
Not sure you can respond to your customers quickly enough? No worries. Implementing a strong AI chatbot to automate customer interactions is one of the easiest ways to address your guest queries promptly while still providing individual and personalized support.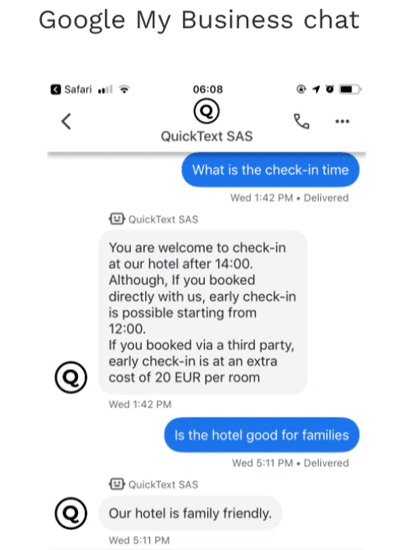 For example, Velma, Quicktext's AI chatbot, can handle at least 85% of guest queries instantly and 24/7. Velma integrates with different communication platforms, including Live chat, Facebook, Whatsapp, and now Google My Business Chat, so you don't have to worry about managing queries on different channels
Creating an engaging conversational experience with your potential guests will build engagement and brand loyalty in the long run.
Free Checklist

: Creating The Best Direct Booking Strategy

Increasing the number of direct online bookings allows the hotel to save money by eliminating intermediary commissions and enabling the hotel to connect with the guest directly.

With this Checklist, you learn how to turn your hotel website into a high-converting sales engine.

Click here to download

the checklist

"Creating The Best Direct Booking Strategy"

.
Hotels' ability to leverage new and evolving customer behavior driven by mobile will help them maximize their visibility and direct bookings but, most importantly, engage their guests and build brand loyalty in the long run.