Many trips had to be cancelled due to the COVID-19 crisis, but recent consumer surveys show that many people will want to catch up on those missed travel trips after the crisis; so-called revenge travelling. But now the question is: will demand bounce back as quickly as some seem to think? Will the way we can travel change a lot after this pandemic? And how should you as a hotelier prepare for the arrival of your first guests?
New Consumer Surveys Offer Hope
After Wuhan's lock-down ended, travel around China slowly started up again. Demand has been growing steadily, spreading optimism among local and international hoteliers. That's why many in the hotel industry find themselves hoping for a wave of 'revenge travelling' – travellers going on extra trips or spoiling themselves during their post-corona vacations because security measures deprived them of it for so long.
For example, Marriott reported that of the 90 hotels it closed, 60 are back in business now. Sure, their occupancy is still low, but at least things are moving in the right direction.
Alibaba's travel platform Fliggy recently did a survey , which confirms this trend for China. A majority of 55% of respondents who cancelled trips because of COVID-19 said they were considering rebooking.
In another survey , the US-based hotel software provider Fuel Travel got a similar response from over 10,500 participants. In total, 59% claimed they wanted to travel in 2020, and 14% were planning for travel trips at 2021. Only 3% said they wanted to stay home.
But even with growing demand, will people be able to travel post-COVID-19 and will revenge travelling increase?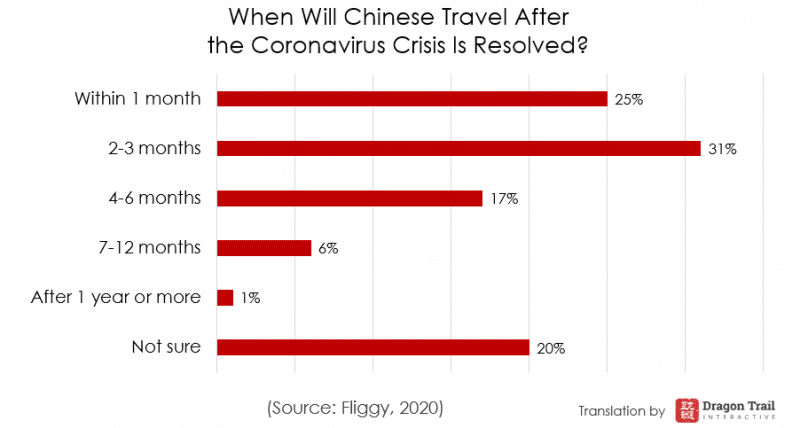 How Will Travel Change After COVID-19?
Since the virus is progressing differently around the world, restrictions for some countries will have to stay in place longer than for others. Even within countries differences may apply if governments allow regions or states to decide when and how quickly to reopen and welcome visitors once again.
While there's no doubt that travel will become possible again, there will be new requirements. It's still unsure what they will look like, but they could include asking for proof of immunity for COVID-19 (or proof of vaccination, once there is one), mandatory testing and/or quarantining upon arrival (already implemented in countries like Hong Kong and South Korea).
This means that domestic travel will pick up first, since it will not be subject to these travel requirements, which come with an increased cost and burden for travellers.
Another aspect that could change is how travellers think about flexibility when booking trips. In case your property has a strict cancellation policy, now is a good time to add some more flexible options (possibly for an extra fee).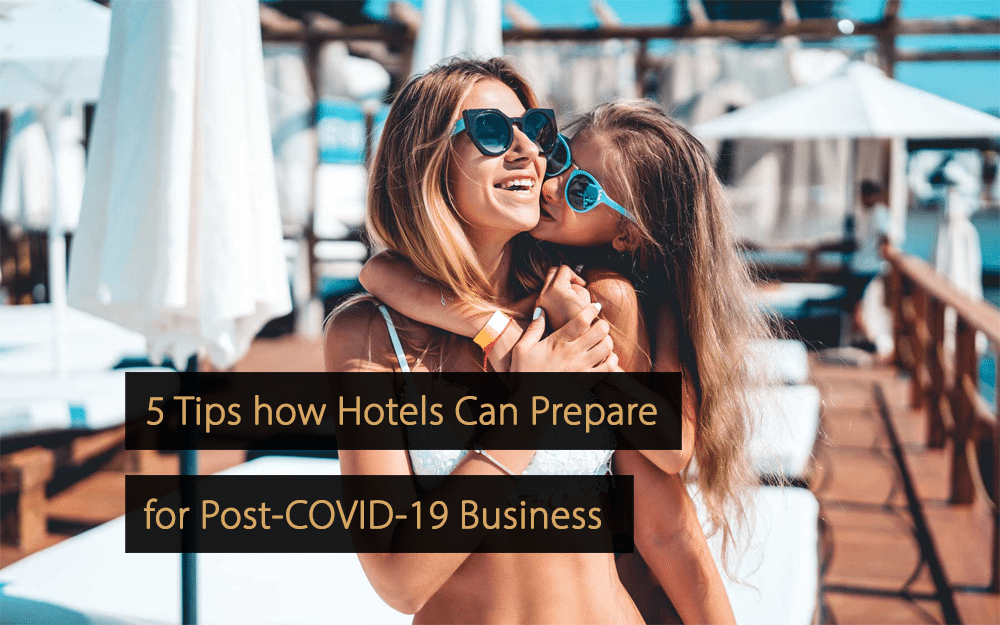 How Hotels Can Prepare for Post-COVID-19 Business
It's still impossible to say when and how demand will recover, but it's important to be ready when it does. After having been housebound for so long, people will want to go out and treat themselves. However, keep in mind that guests will have different needs and expectations, and might have worries or concerns about if how your hotel is Corona-proof.
Here are five ways you can use your hotel's current downtime to prepare for those first revenge travellers and increasing stream of guests.
1. Highlight What You're Doing to Keep Guests And Staff Safe
Increased hygiene measures will be high on travellers' priority lists right after the COVID-19 crisis. To show that you're taking this seriously, tell guests what you do to ensure a sanitary environment.
To attract revenge travellers, share details about staff training, how often you sanitise public areas and use posters to encourage everyone on-site to stick to handwashing guidelines. Make this information easy to find on your website and social media channels to attract revenge travelling guests to your hotel, and communicate it in pre-arrival emails to make guests feel comfortable.
2. Offer Services Built Around Health And Safety
With people looking out for their health more than before, they will show greater interest in products and services built around their health and safety, even if they may come with a price tag.
Room service breakfast has become more attractive because it allows guests to avoid crowds in the breakfast room. Offering this as a paid upgrade could therefore not only boost F&B revenue but also give guests an option they're more at ease with.
You could make masks and hand sanitiser part of your in-room amenity set or offer them as a paid add-on to drive ancillary revenue. Other services like airport transfers in sanitised cars are yet another way to combine the opportunity to make guests feel comfortable with generating additional revenue.
3. Create an Unforgettable Experience
After being cooped up at home due to lock-downs and travel bans, many people are ready to get their freedom back. Others faced more stress and higher workloads during this time (think of healthcare and other essential workers) and will finally be able to go for a hard-earned break. They deserve a spoiled revenge travelling trip. As a hotelier, you need to give these guests everything they dreamed of and more. Here are two ways you can go about it.
Offer 'treat yourself packages' which invite guests to splurge on a fancy dinner or an extra spa treatment. Letting guests customise their stay with fun add-ons will not only help them enjoy their time with you more, it also increases average guest spend.
You've probably read it too: revenue management experts advise against offering steep discounts. That doesn't mean you can't offer extra value though. Especially people who've been hit financially by the crisis will enjoy 3-for-2 offers or bonus vouchers (think pay $20 and get $25). Too boring for you? The sky's the limit, so you can get creative.
As an experienced hotelier, you know that personalised and attentive service is always important. But it's even more critical right now. If you can wow the first revenge travelling guests, they will share their great experience and inspire others to travel again as well.
4. Don't Miss the Boat With Marketing
Yes, this downtime is a challenge. But it's also a chance to review processes, try new tools or implement improved systems, so you can shine once things pick up again.
Especially with marketing, you don't want to miss the boat and leave the field open for your competition to attract those early revenge travellers. Use this low demand period to think of how you could attract guests when they can travel again.
First, monitor what local authorities are saying about restrictions easing or being lifted. That gives you a timeline to follow when you prepare ads and promotions. Then, create localised content to raise your profile among domestic travellers. Also, leverage your existing (or new) social media presence to connect with guests and tell them how your property is doing.
You can also use your F&B outlets to gain traction in your city with apps like UberEats, Deliveroo or your local equivalent. On top of generating revenue, this can also help you grow your local client base for post-COVID times.
5. Focus on ROI and Average Spend per Guest
Occupancy rates will take a while to return to pre-corona levels, so a strong focus on ROI and average guest spend will ensure your hotel can thrive post-crisis.
Start by finding out which OTA or agent your most profitable bookings come from. That's where you want to focus your marketing dollars to get a higher percentage of these high-ROI bookings.
Next, boost average guest spend through relevant upgrades and deals, for example by using the up-sell software of Oaky. The more you personalise your offer, the better it will convert and the higher your ancillary revenue will be. To get the best results during this upcoming revenge travelling trend, create optimised offers for different segments. That may seem daunting, but with the help of a good up-selling tool, it's quite easy and can quickly bring a great ROI.
4 Free Ebooks

: COVID Recovery Strategies per Department

COVID brought the global hospitality industry to a grinding halt. To help you get the most out of your property during this rebound phase, you can download 4 free eBooks with more detailed advice and in-depth interviews per department on how to get your hotel through these times successfully. Use the following links to download the COVID recovery strategies per department:

marketing

,

revenue management

,

F&B

and

front office

.
Now it's your turn… which of these steps are you already applying? And which ones could you implement most easily? Don't forget, this is not an 'all or nothing' situation. Everything you do can help your hotel come out of this crisis a little bit stronger and make the most of returning demand. All you have to do is start implementing these tips and those revenge travelling guest will find your hotel, so your revenue can grow again.