While hoteliers, in general, are becoming well-versed in the multiple benefits of digital upselling, it's interesting to note how individual hotels find unique ways of using upselling to boost their business. In this article, Hotel Van der Valk explains what the benefit is of digital upselling and you can download the full performance report with all results.
Digital Upselling Gives Guests More Freedom to Design Their Stay
Whether their focus is on boosting ancillary revenue or improving their guest's experience, there are myriad ways and areas of business that you can focus your upselling efforts on, depending on your hotel's pre-existing strengths.
Nienke Rusticus, Front Office Manager at the Van der Valk Hotel Leusden – Amersfoort and Tom van der Valk, the property's General Manager share their recent experience with digital upselling, and how it impacted their revenue, profit margin and most importantly guests' perception of their hotel.
"Using digital upselling has allowed us to give our guests more freedom to design their stay. They take full advantage of that and often treat themselves to one or even several of our offers. We benefit from this in a few ways: our guests are delighted with their stay, they leave great online reviews, and we generate incremental revenue." Nienke Rusticus, Front Office Manager.
Making the Shift to Digital Upselling
Hotel Leusden took to digital upselling like a duck to water. They adopted the upselling engine Oaky with the help of the company's onboarding specialists. Finding it a relatively intuitive tool, staff quickly got the hang of it. Customising the tool and adding their hotel-specific promotions took longer, but the time invested was soon reflected in the popularity of their bespoke deals.
"We saw great results in our first months using Oaky. Our pre-arrival emails consistently achieved open rates of around 90%, and our limited-time F&B were extremely popular among guests." Tom Van der Valk, General Manager.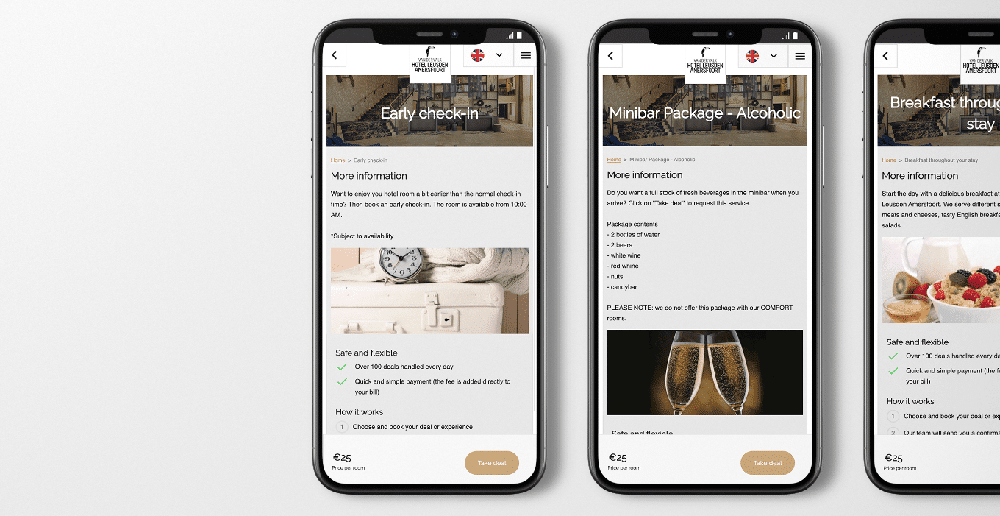 Optimising Digital Upselling Performance
After promising results offering F&B deals via pre-arrival upselling, the team at Van der Valk Hotel Leusden set about exploring new areas to monetise via automated upselling.
Segmenting the recipients of the pre-arrival emails is also on the horizon, to allow a better, more relevant range of items and services to be shown to each guest and further personalise the message each receives.
Free Report

: Upsell Performance Report

Find out which deals perform best at the Van der Valk Hotel Leusden – Amersfoort, how high their conversion rate is and how much ancillary revenue they generate on average via Oaky. For Van der Valk's full performance report including in-depth results and numbers,

Click here to download

the complete customer case report.

The use-case of Van der Valk Hotel Leusden shows that digitalising your upsell strategy maximises the spend per guest or room, allows guests more freedom to design their stay, and they leave more positive online reviews.
Revfine.com
2022-02-18T20:34:34+01:00