Just what is a seven-star hotel? These luxurious and grandiose establishments strive for a place above and beyond even the notable luxury associated with a five-star rating. Seven-star hotels aim for levels of sumptuousness and extravagance that most luxury hotels can only dream of. In this article, you'll learn about what makes a seven-star hotel and discover some examples.
Quick Menu
What Is the Hotel Industry?
From a seven-star hotel in Singapore to the humblest backpacker hostel in Prague, the hotel industry serves the needs of travellers who require accommodation overnight (or longer). The hotel's features, amenities and services will vary depending on the price position and the guests' needs, with hotel owners and managers aiming to attract a particular kind of customer. There's a significant overlap between the hotel industry and the hospitality industry — so significant that they're often confused.
The hospitality industry is broadly concerned with leisure and recreation, covering not just hotels but bars, restaurants, tourism and other activities that people typically undertake for enjoyment rather than due to necessity. The hotel industry is concerned explicitly with customers who want accommodation, whether travelling for business, study or tourism. You can learn more about the hotel industry in "Hotel Industry: Everything You Need to Know About Hotels!"
International Standardisation in Hotel Star Rating Systems
What is a seven-star hotel? The highest standardised star rating for a hotel is five stars. Various companies and rating bodies have worked to create a meaningful rating system for hotels, evaluating establishments on a five-yearly basis to determine their star ratings. The rating system's critical aspects include comfort, service excellence and quality amenities.
Because there are various rating bodies, there are also different systems. One of the most widely known is the Michelin star rating, which awards hotels between one and five stars (with five stars being the highest possible). Other systems also use a similar star rating.
What is The Significance of Hotel Star Ratings?
A hotel is one of the first things a traveller might look for when preparing for a trip. It's important to find comfortable accommodation within the traveller's price range. Star ratings offer a quick and easy way to tell if a hotel suits the client. Someone looking for a genuinely luxurious experience would seek out hotels with four or five stars, while a budget traveller might be happy with a two-star hotel. A five-star rating implies that a hotel is exceptionally well-appointed and that the service and amenities will be outstanding.
For more information about hotel star rating systems, please read "The Hotel Star Rating System: Types, Benefits, Significance, Examples".
What Is a 7-Star Hotel?
With most star ratings offering a maximum of five stars, you might wonder what a seven-star hotel is. In truth, there are no official 7-star hotels. That doesn't mean that guests, reviewers and sometimes the hotel owners themselves haven't dubbed some establishments as seven-star hotels. A seven-star hotel exceeds even the luxury and premium service required to attain a five-star rating from an official body. These hotels offer something above and beyond a five-star experience, catering to a highly wealthy clientele. They're courting celebrities, captains of industry and major political figures.
Features of a 7-Star Hotel
Seven-star hotels are characterised by exclusivity and grandeur. With rooms sometimes costing tens of thousands of pounds a night, guests can expect truly lavish services on offer. Such hotels might offer helicopter transfers in place of the more traditional limousine, incredible collections of fine wines in the cellars, personal butlers and more.
Only the wealthiest clientele could even consider a stay at one of these establishments. Simply offering comfortable rooms, well-maintained amenities and gourmet food in the restaurant isn't enough. A 7-star hotel strives to offer a uniquely luxurious experience, breaking records and making headlines.
A seven-star hotel might have any number of facilities. Pool and spa facilities will be numerous and varied, with a record-breaking range of available facilities and procedures. The restaurants will serve food prepared by Michelin-star chefs. Every suite and room might have a unique design. Services will be unsurpassed in flexibility and discretion. The location and views will be superb.
Five Most Famous 7-Star Hotels
You can find examples of seven-star hotels all around the world. Below are examples of the most famous or extravagant hotels that offers exceptional luxury to their guests.
Burj Al Arab – Dubai, United Arab Emirates
In a city renowned for its extravagant futuristic architecture, it takes a lot for a hotel to stand out. The iconic Burj Al Arab succeeds in this. It's the original 7-star hotel. Burj Al Arab is the tallest hotel in Dubai, standing on its own man-made island. Guests can expect to be treated like royalty, especially if they choose to stay at the Royal Suite. This is the hotel's most expensive room, with a single night costing upwards of £20,000. The suite has its own cinema room and comes with a personal butler and limousine.
Video: Burj Al Arab – The World's Most Luxurious Hotel
Click here to visit the website of Burj Al Arab.
Laucala Island Resort – Fiji
The Laucala Island Resort lets guests enjoy the paradise of Fiji in style. What is this seven-star hotel? Well, it's made up of 25 villas and cared for by a small army of staff — more than 300 in all. The cheapest villa is almost £4,000 per night, while the most expensive is over £41,000. Guests who can afford the exorbitant prices can enjoy a range of services, with drivers, cleaners, nannies and private chefs on hand to meet every need. The villas are extravagantly appointed, offering beachside bedrooms and private infinity pools Experiences include kayaking, golfing and even submarine trips in the pristine waters of the South Pacific.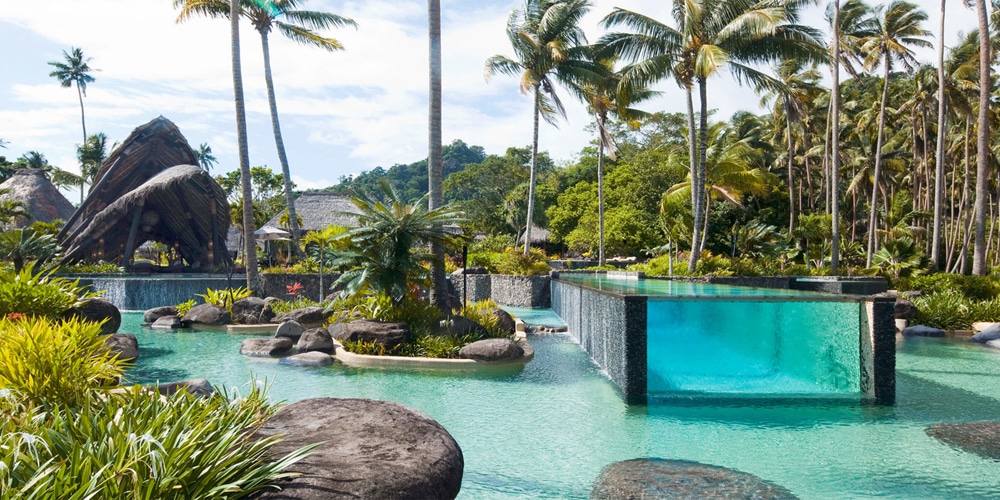 Click here to visit the website of Laucala Island Resort.
Hôtel Plaza Athénée – Paris, France
Of course, a seven-star hotel in Paris has to feature Eiffel Tower views. The Hôtel Plaza Athénée delivers, with a location on the avenue Montaigne and just opposite the famous landmark. The rooms are furnished with classic French opulence, crystal chandeliers, luxurious materials and premium features. Each room boasts a private balcony so guests can gaze out at the Eiffel Tower and the Paris skyline while enjoying their petit déjeuner. Window-side armchairs and coffee tables allow for indoor enjoyment of the view if the Parisian weather isn't cooperating.
Video: Hôtel Plaza Athénée – Grand Reopening 2020
Click here to visit the website of Hôtel Plaza Athénée.
Taj Falaknuma Palace, Hyderabad, India
Once occupied by the ruler of Hyderabad, the Taj Falaknuma Palace is India's sole seven-star hotel. It's an incredible building, as you'd expect from somewhere that was once the home of the world's wealthiest man. The palace boasts a unique scorpion-shaped structure, with two sweeping wings in place of claws. The interior is even more incredible, with priceless artworks and manuscripts on the walls, a collection of jade artefacts, and Belgian Osler chandeliers. The hotel even has a replica of Windsor Castle's library. Guests can expect the most regal of welcomes, with the option of pulling up in a horse-drawn carriage.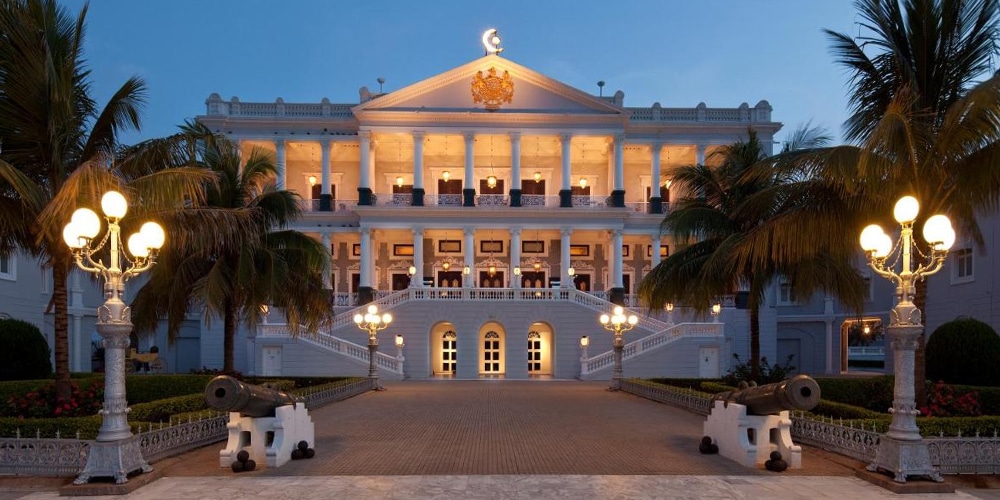 Click here to visit the website of Taj Falaknuma Palace.
Signiel Seoul, Seoul, South Korea
Situated in the Lotte World Tower, the Signiel Seoul gives a new definition to the concept of a seven-star hotel. While most of the rooms aren't as outrageously priced as some on this list, it's still South Korea's most costly hotel; the most expensive room is over £15,000 a night. Guests can be transferred in by helicopter to enjoy luxurious rooms, food prepared by Michelin-starred chefs, and the biggest collection of champagnes in Asia. Thanks to its location in one of the world's tallest buildings, the hotel offers spectacular views out over Seoul.
Video: SIGNIEL SEOUL by LOTTE Hotels & Resorts (official)
Click here to visit the website of Signiel Seoul.
Social Media Strategies
It's not just 7-star hotels that deserve a high profile. Hotels and resorts must keep up with the latest strategies to leverage social platforms in an era where social media is king. Perhaps more than any other sector, businesses in the hotel industry can benefit from the opportunities offered by platforms like Instagram, TikTok, Facebook and more.
In this article, you'll discover ways to leverage social media to raise brand awareness, drive traffic to your website, increase your bookings and improve revenue management. Find out how social media can help your hotel marketing strategies in "8 Social Media Strategies For Hotels to Engage With Guests".
What Makes a Hotel Cool?
With more and more people choosing to travel for business and leisure, guests are increasingly searching for something outside the norm. Bland, generic hotels just won't satisfy a curious and experience-hungry traveller. Hotels that offer the character, a unique location or an outstanding aesthetic have a natural advantage in a changing market.
The cool hotel craze is sweeping the industry, from hotels inspired by natural surroundings or famous landmarks to floating boatels. To learn more about what makes a hotel cool and to study some genuinely unique hotels, read "Cool Hotels: What Makes a Hotel Cool and What are Some Examples?"
While "7-star hotel" might not be an official rating, it's still a meaningful designation for the world's most opulent and extravagant hotels. If a hotel offers record-breaking amenities and service that's second to none, perhaps it's worthy of those two extra stars after all.