AI and big data unlock opportunities for hotels to boost their direct revenue and operational efficiency while offering instant and personalized guest experiences. This article will focus on 4 ways hotels can leverage AI and Big Data to engage customers in the hotel direct booking process and drive their direct sales.
1) Deliver Instant Service With Conversational AI
Conversational AI, a form of artificial intelligence such as AI chatbots, improves the quality of hotel customer service while boosting conversions. But how?
As online traffic becomes mostly mobile, users prefer to consume information interactively through chat rather than browsing the entire website.
This new behavior explains why more and more travelers are turning to chat when they want to get information or make a reservation.
As chat volumes increase and new interactive platforms such as Live Chat, Facebook Messenger, WhatsApp, Instagram, Google Business Chat… become available for customers to message the hotel, it becomes impossible to manage these conversations manually and individually.
While each customer is unique, they typically ask the same set of 40 questions. What matters is speed, accuracy, and consistency across all communication channels.
Interaction is the new search, but staff can't be everywhere at once. However, AI-powered chatbots provide instant help to most customers while detecting conversations where human assistance would make a difference.
If you're considering adopting AI for your hotel, you should know that not all conversational AI is the same. Some are generic and can be applied to any industry, like a WordPress template, making these systems very cheap but very limited for a use case as complex as hospitality.
At Quicktext, we developed VELMA, an AI dedicated to the hospitality industry, capable of accurately understanding and responding to travelers' needs.
How does it work?
The AI-powered chatbot instantly answers customer queries such as Room reservation, Check-in time, parking, baby cot, swimming pool, room equipment, etc., on the hotel's website and instant messaging platforms and automatically generates a reservation based on the customer's preferences.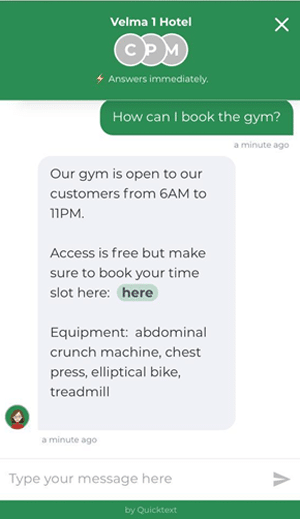 Conversational AI allows hotels to deliver immediate support to customers by solving their queries instantly in multiple languages 24/7.
Instant support means satisfied customers but also a shorter time to resolve queries such as reservations, leading to shorter sales cycles and more bookings.
2) Capture Customer Data With an AI Chatbot
Not every interaction with an AI chatbot ends with an immediate booking. Hesitant customers will leave your hotel website and abandon their reservations. So how can you convert your potential customer?
While answering customer questions, the AI chatbot will capture a lot of data about the customer: name, email, phone, interests, traveling dates & customer opt-in.
Customer data will directly feed the hotel CRM, call center… to trigger automated and personalized follow-ups.
Retargeting hesitant customer is a crucial step to ensure conversion and recover any lost revenue potential.
3) Boost SEO and Hotel Traffic With AI-powered Snippets
What about the hotel visibility, and what do OTAs have over hotels?
OTAs or third-party booking agencies have accumulated structured information about your hotel that customers often lookup on Google.
When a customer Googles information about your hotel, such as the hotel check-in time, the OTA website will most likely appear on the first search results to provide the answer.
Customers will naturally click on the first links and proceed with their booking via OTAs. Below is an example of a Google featured snippet.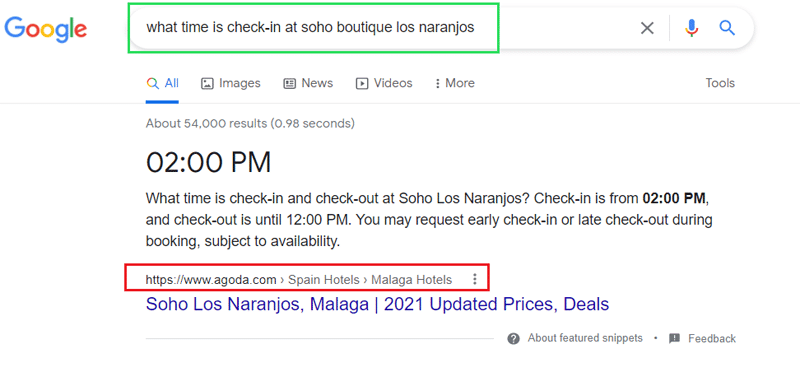 80% of Google queries contain more than three words and look more and more like questions. OTAs use the hotel's structured content to offer relevant answers that maximize their visibility on search engines.
But shouldn't your hotel be the authoritative source of information about your property and drive this traffic to your website? (Both short and long answers are YES)
Results that appear on top of the SERP or Search Engine Results Page are called featured snippets. (See below) simply because they feature an answer quickly.
Harnessing thousands and thousands of conversations collected, the AI will know which questions are frequently asked to the hotel and automatically generate a dynamic FAQ page on the hotel website in the form of snippets. These AI-powered snippets and FAQs will maximize the hotel's visibility on top of search results.
Ranking at the top of search results will allow your hotel to stand out among OTAs, drive traffic back to your website, and convert customers directly.
4) Predictive Personalization With Big Data
With online customers lacking time and attention, filtering out unnecessary information and providing personalized recommendations can significantly improve conversions.
By leveraging customer data from different touchpoints and factors such as location, preferences, purchase history, etc., hotels can predict the type of content and offer that is likely to appeal to their potential guests and tailor their website content accordingly.
Hotels that tap into big data will deliver more relevant and personalized customer experiences, increasing their conversion rates and putting them at the forefront of customer-centricity.
Free Checklist

: Creating The Best Direct Booking Strategy

Increasing the number of direct online bookings allows the hotel to save money by eliminating intermediary commissions and enabling the hotel to connect with the guest directly.

With this Checklist, you learn how to turn your hotel website into a high-converting sales engine.

Click here to download

the checklist

"Creating The Best Direct Booking Strategy"

.
Applications of AI and BIG Data are revolutionizing the hospitality industry, with increased demand for relevant experiences and engaging interactions that resolve queries seamlessly and instantly. Hotels that can engage customers and guide them through their booking funnel will see their conversions sky-rocket while outshining their competition.