Picture this. You want to surprise your partner for Valentine's day with a romantic getaway. You start exploring options, but after entering your search dates on the hotel's booking engine, the following message pops up: "Early bird offer. Enjoy an incredible 20% discount on family bookings this summer!" How random. Chances are you would leave the website to look for other more relevant hotel options.
Hotel Website Personalization is No longer a Trend But an Expectation
Consumers expect to enjoy a unique and singular online journey in today's digital world full of personalized user experiences, from Netflix to Spotify. You must ensure that your hotel website delivers just that as a hotelier. If you are looking for some inspiration, here are five proven website personalization techniques to get you started and ensure that this is the year you see your direct bookings soar.
5 Hotel Website Personalization Techniques
These powerful hotel website personalization strategies have been implemented successfully by hotel brands using The Hotels Network's conversion & personalization tools to deliver a unique online experience that resonates among visitors and convinces them to book directly.
1. Engaging With Visitors Coming From Instagram
Truth to be told, Instagram has become one of the most effective channels to inspire potential guests and drive them towards the hotel website. So, why not take advantage of it? Whenever visitors coming from Instagram land on your hotel website, be sure to provide them with a personalized website experience to nudge them towards a direct reservation.
A warm welcome message with a time-limited discount exclusive for users coming from Instagram has proven to work particularly well. Test it out on your website, and remember, don't limit yourself! This concept can be applied to any of your social media channels and online campaigns you have up and running.
2. Recognizing and Rewarding Repeat Visitors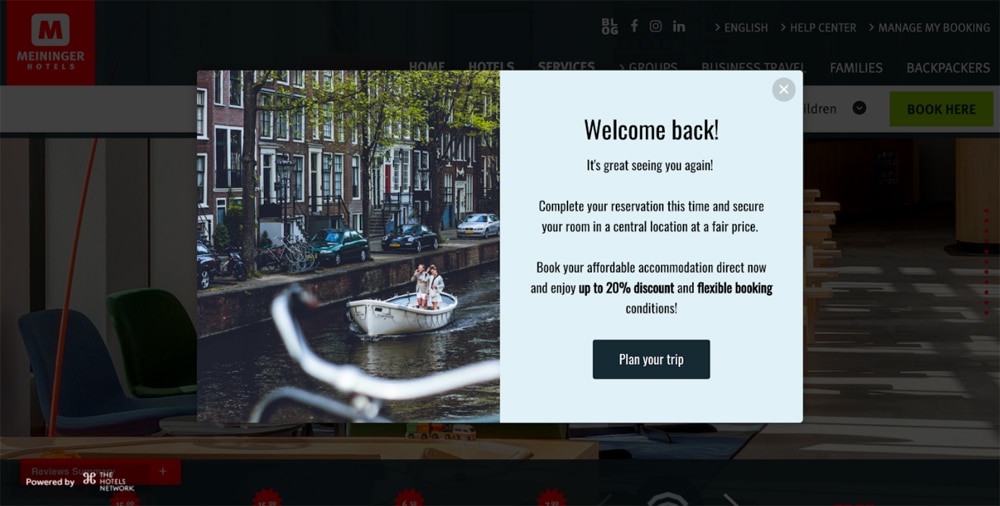 Guests tend to visit a hotel website several times when booking a stay. With this in mind, it's crucial to provide a different online experience on each visit to offer guests what they are looking for successfully.
The first visit is usually for discovery, so to catch the attention of potential guests, you should communicate your hotel's unique selling points – perhaps your incredible slow food restaurant, or the stunning sea views from your private balconies. And for those visitors coming back, offer them something special to encourage them to book directly. What's more, by adding a countdown clock into this offer you can create a sense of urgency and guide users further down the booking funnel.
3. Targeting your Website Communication Based on User Profile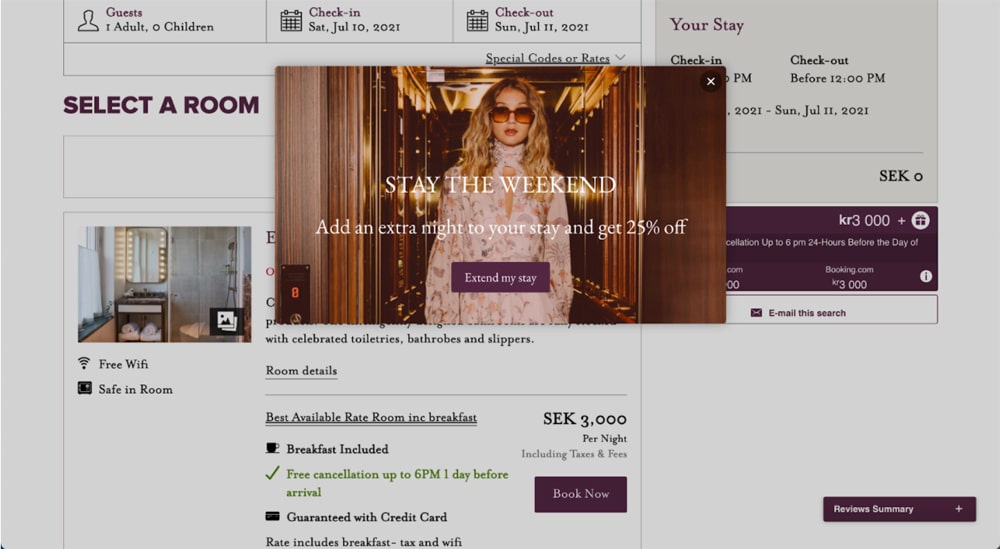 The information stored in a hotel's member database is precious – it doesn't only provide information about the person's demographics, but often their tastes and interests too. By adapting your website messaging based on that information, you can take your hotel booking experience to the next level, boosting your direct reservations significantly.
Imagine a visitor arriving on your website, logging in, and seeing an exclusive deal reserved for Silver club members, who have used spa facilities during a previous stay, which is only available on the specific last-minute dates they are searching for. Highly tempting!
4. Upselling by Promoting Exclusive Packages for Specific Stays
This is a fantastic opportunity to increase your average booking value! Guests today expect more than just a hotel stay; they want to have more meaningful experiences in the property. So why not offer them that?
Tailor exclusive packages that include some of your most unique hotel offerings and make them relevant to specific booking dates, length of stay, and even the number of travelers. By limiting the display of the message to when the search matches the established offer targeted, you will ensure that you are showing the right offer to the right visitor at the right time.
5. Leveraging Predictive Personalization
The concept of leveraging technology to improve the user experience and increase hotel revenue simultaneously is called Predictive Personalization. It's a two-step process whereby machine learning techniques are applied to understand user behavior. Then their website experience is personalized automatically by presenting the best content and offers for that individual.
By using this approach, the most relevant offer is displayed dynamically based on each user's likelihood to book, or not. Say goodbye to unnecessary discounts for high-intent users and start seeing higher conversation rates for those low-intent users. They need an extra nudge to be won over by your property.
Free KPI Framework: Top 10 Direct Channel Metrics for Benchmarking Your Hotel Performance
Direct bookings are paramount for hotel brands to succeed today, but the channel's performance management is often insufficient. Still, the real value comes from seeing how your brand compares to the market so you can identify growth opportunities. Data analytics can help you better understand your direct channel results.
Click here to download
the KPI Framework
"Benchmarking Your Hotel brand's Performance"
.
Focusing on boosting your hotel's online conversion rate through website personalization techniques will lower your acquisition costs and make your business more profitable. By better understanding guest expectations and adapting your messaging accordingly, you will be able to engage with your website visitors truly and convince them that your property is the ideal choice for them.