Using past data to predict future revenue during a pandemic might seem counterintuitive to many hoteliers. After all, hotel revenue management is always a complex science. How can you predict anything during a pandemic? In this article, you'll learn how fellow hoteliers dealt with the Corona pandemic.
Three Different Paths During the Pandemic
As a hotelier, you've faced an unusual past year, and you've had to make difficult choices. As revenue optimization experts, we've seen hoteliers choose from three different paths during the pandemic.
Close
Become a quarantine/covid hotel
Stay open as a regular hotel, go after a new business segment, and use revenue management
It might seem surprising, but many hotels that opted for option three broke even or covered a portion of their costs during lockdowns. Even better, these hotels were more visible online as the demand returned, so they were stronger to attract early travelers.
Let's Recap Revenue Management
Revenue management is a science using analytical insights to predict customer demand. By analyzing historical patterns and forecasting, you can have actionable insights to help you sell the right product for the right customer at the right price via the best channel and maximize profits.
These factors change throughout the year depending on your location, past performance, and local and global events. For example, no one could have predicted a pandemic, and many analysts said revenue management was dead as a result.
After all, in Spring 2020, it did appear there were too many unknowns to rely on historical data to give valuable insights. Yet, some hoteliers chose to continue forecasting and adapt their behavior. Those hoteliers took action and chose a proactive approach.
Yet, a year and a half into the pandemic, there are still many hoteliers who prefer a passive approach. They're skeptical about investing in revenue management strategies for their hotels.
They say things like, "There are still too many uncertainties ahead," "It doesn't make sense to forecast now." Or "there are virus variants," "we don't know if vaccines are effective," "governments can implement lockdowns anytime."
In other words, they prefer to allow things to happen to them rather than adopt a strategic view and adapt to the world's current state.
It's Still Possible to Forecast Despite the Pandemic
Nobody predicted 9/11, the 2008 global financial crisis, the 2021 wildfires, or any of the other natural disasters that have devastated entire destinations.
Revenue managers know it's impossible to forecast every contingency. Yet, they can forecast and readjust as needed.
The paradox is that a sudden terrorist attack, an earthquake, or a tsunami is much more unpredictable than a virus. As we all know, epidemic viruses have always existed in human history, and their behavior presents some mathematical patterns that scientists over the centuries have studied. This means there's a certain degree of predictability and calculus of probability.
This is good news when you think about it.
Every political decision that's impacted tourism and hotels in the last year and a half has resulted from scientific evaluations based on this calculus of probability.
Yet, some hoteliers keep feeling overwhelmed by the uncertainty of events. They'd instead try to adapt to circumstances after the fact rather than take a proactive approach.
Let's look at two ways hoteliers have approached the pandemic:
Become a Quarantine Hotel (or Closing)
Remain a "Regular" Hotel
The Revenue Problem with Shutting Down The Hotels Or Becoming A Covid/Quarantine Hotel
As you know, in 2020, the pandemic raged. There was a low immunity rate and no vaccines. Now vaccine rates are going up, and more people are eager to travel.
By looking to 2020 as a gauge, we can see which hotels outperformed expectations and are emerging stronger. (Hint: It wasn't the hotels that chose to close or become quarantine hotels.)
For example, hotels that closed brought in no revenue. Yet, they still had fixed costs of rent, mortgage, taxes, and other expenses. Closing wasn't a sustainable approach, even more so when financial aids from governments were insufficient.
Others chose to turn their hotel into a Covid or quarantine hotel. There are two versions of such hotels.
A covid hotel or "hospitel" (hospital+hotel) hosts people that test positive to Covid and need to self-isolate but have mild to no symptoms, so they don't need to stay in a real hospital. A quarantine hotel is where people are obliged to quarantine even if tested negative or vaccinated, for example, foreigners or residents coming back from high-risk countries. These hotels are officially designated and approved by governments.
From an operational point of view, hosting such guests implies low costs. These guests will stay locked in their rooms for 10 to 14 days, depending on local rules. They won't participate in activities or use hotel facilities. As a result, there's no need for a full staff.
Many hoteliers saw this business as the only alternative to temporarily or permanently shut down. On the surface, it looked like an excellent opportunity to stay afloat during a pandemic because it provided a stream of revenue with relatively low costs.
However, this short-term solution proves to be very short-term, as you'll see.
There are Financial Drawbacks from Being a Quarantine Hotel
While the peculiarities of quarantine hotels vary by country, there are some common shortcomings:
1. There is very little revenue management and dynamic pricing to do in covid/quarantine hotels. There's a fixed price often decided by the government/ministry of health. In the best-case scenario, it's just half of pre-covid ADR (average daily rate), if not one third.
2. There's no pre-stay engagement. The guests didn't choose the hotel or the room type in most cases since the government assigned the hotel.
3. The in-stay engagement is also almost non-existent as well. Since the guest is confined to their room, they can't benefit from the hotel services and interact with the staff. They don't arrive, stay, or leave the hotel with the best impression of your hospitality.
4. Could result in bad reviews. As a hotelier, you'll do your best to make your guests comfortable. However, the imposed stay can feel like a prison, and it's not likely to turn into lots of rave reviews on Tripadvisor. If you do get reviews, they could sometimes come from guests frustrated with the mandated quarantine.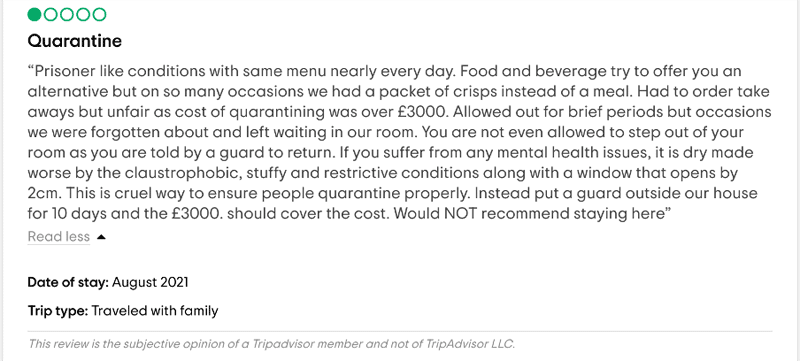 5. Can't host other guests – For obvious contamination risks, covid/quarantine hotels cannot host other guests. It's impossible to mix quarantined guests staying 10-14 days with outside guests who wish to stay 2-3 days for different reasons.
Such hotels must close inventory availability and reject bookings on the OTAs, booking engine, and other channels while the government contract is in place.
6. Risk invisibility on OTAs and Google when things reopen. Algorithms thrive on activity. If your hotel isn't getting reviews and reservations, the rankings and conversion rates (between visits and bookings) drop.
When you switch off the OTAs and Google, it takes a long time to reclaim your earlier rankings and target your typical guests again.
7. Staff Replacement – Yes, you can run this type of hotel with almost no staff, but once the government contract ends and you return to regular hospitality, you have to find and train new staff, and it won't be easy at all. It can be like starting all over.
8. Volatile – We know how dangerous it is to put all your eggs in one basket and rely only on one market segment. The quarantine demand is very volatile and subject to epidemic curves. Hotels may run at 60-70% for some months during covid waves and then dramatically drop at 5-10% when the virus is again under control. Paradoxically, the worse the epidemiological situation, the better for these hotels. However, as many hotels try to apply for this opportunity, the share of this market shrinks even further.
9. Not cultivating guest loyalty and post-stay engagement – Even if you have these guests' emails, they are likely to develop a negative mental association with your hotel brand and are unlikely to become repeat guests
10. Not to mention the risk of losing your existing frequent guests that will turn to regular open hotels when they need accommodation.
What Are The Alternatives?
You know that many hoteliers chose to close or become a temporary covid/quarantine hotel. Yet, some chose the third option. Remain open and look to revenue management to help develop new and existing market segments.
As mentioned before, revenue management is the art of selling the right product to the right customer at the right time for the right price and via the right channel.
That's a lot of "rights," and it takes some know-how to make it happen.
How Hoteliers Handled Revenue Management During the Pandemic
Despite country-wide lockdowns, some hotels stayed open. They used a revenue management strategy to analyze epidemiologic curves and the existing market.
As a result, they could predict the demand with a high degree of reliability and be successful.
First of all, even during lockdowns, people are still exempt from restrictions and are allowed to travel for essential reasons. Those essential workers could be healthcare workers, construction or police, logistic operators, servicemen and women, journalists, government officials, and many more.
Such jobs are essential to maintaining operations.
These guests often look for and autonomously book accommodations online or directly (after viewing online platforms.) With this knowledge, revenue managers create a compelling mix of offers, images, copy, descriptions, and pricing.
Assuming these essential workers are covid negative, they can move around the hotel and interact with staff more or less in the same way as pre-pandemic.
Yes, overall demand is lower during lockdowns, but supply is also lower than usual. Some hotels closed, and others turned into covid/quarantine hotels.
Throughout the pandemic stages, this essential worker market segment has remained stable.
Such business/essential travelers have helped hotels with strong revenue management practices to break even or cover a large part of their fixed costs during lockdowns. More so, thanks to a higher online conversion rate, these hotels are the frontrunners as soon as the epidemic curves allow for an easing of restrictions and a return of leisure and groups/MICE demand.
OTAs and Google push the visibility and reward the hotels that remained open. As such, these hotels have gotten more business throughout the pandemic. And with more visibility, they can afford to sell at much higher rates recouping previous losses.
The Importance Of Brand Reputation During A Pandemic
Non-quarantine guests are more valuable than quarantining guests for a hotel. For example, they're more likely to buy ancillary services (e.g., parking, room service, upgrades). If they enjoy the stay, they might return other times and leave a positive review on OTAs, Google, TripAdvisor, etc. A good brand reputation is essential for revenue management. It means more visibility and reservations at higher rates.
A hotel with 9+ on Booking.com and 4.5 on Tripadvisor is in an excellent position to achieve excellent results. However, it's not only about having good reviews. The algorithm also cares about the quantity of reviews and their recency as a reflection of common guest behaviour. The better, more numerous, and more recent the reviews, the higher the ranking.
When searching properties on OTAs using the filter "top reviewed," it's not uncommon to find hotels with lower scores but more and fresher reviews ranking higher than other properties with higher scores but less and dated reviews.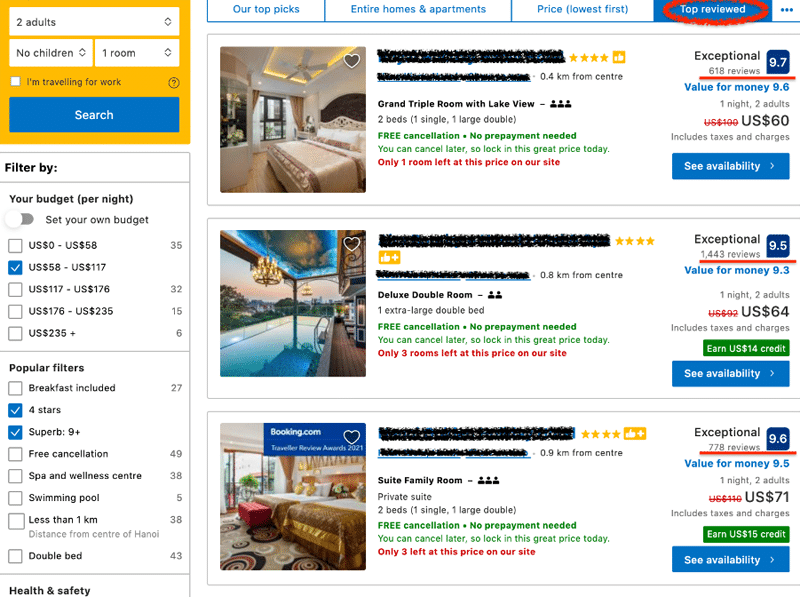 There are many hotels worldwide whose last online review on OTAs dates back to February or March 2020, before the WHO declared the pandemic breakout.
When choosing between a couple of hotels, conditions being almost equal (price, score, location, etc.), which one could influence more the final decision? The one with 1.000 reviews mostly dating back to the pre-covid period, or the one with 2.000 reviews accumulated throughout the pandemic?
If most of your reviews are more than one year old, your potential guests might wonder if you've been open or a quarantine hotel during this time and if you're able to maintain your hospitality standards after a hiatus.
Displacement Analysis During The Pandemic
Those hotels in countries with low immunity rates or coping with covid waves should run a displacement analysis and market segmentation. This way, they'll understand the pros and cons of different market segments in the short, medium, and long term.
The power of revenue management is to capture demand when there isn't much (during lockdowns.) Then, it commands higher rates later when demand is high. For example, when restrictions lift, there's an excess of demand. A good revenue manager should be able to predict which reservations to accept and which to turn away.
For example, is it better to earn 100k now and 50 later as a Covid/Quarantine hotel? Or, earn 50 now and 400 later as a regular hotel that stays open and applies revenue management?
Revenue managers can predict overall demand in the future by looking at a range of past and current scientific and medical patterns. For example, the RT index, the immunity rate, hospitalization, fatality rate, and the typical seasonal factors are all useful indicators. *
Such forecasting helps revenue management-oriented hotels hire and schedule the right staff (both fixed and part-time/variable) and allocate adequate resources to sales and marketing. Overall, revenue management optimizes costs throughout the hotel and ensures the highest service and amenities are available at the right time for the right guests.
Many hotels, by staying open and adopting revenue management, have been able to maintain a large part of their staff and boost morale. This results in good service, good reviews, and improved revenue in a financial virtuous circle.
Strong Profit Potential
Using revenue management techniques, the European hotels that remained open in 2020 and 2021 achieved good results. Statistically speaking, the break-even point for hotels is in the 30-50% range of occupancy. During lockdowns, they reached a breakeven or covered a large part of their fixed costs, while laying the foundations for exceptional results once restrictions were
lifted.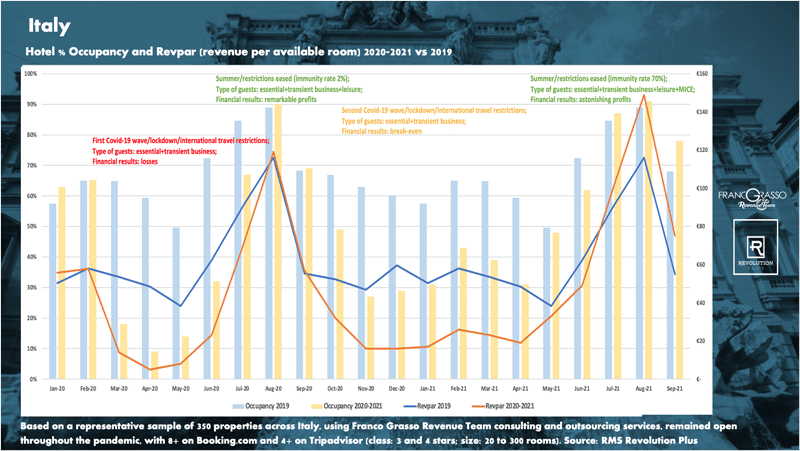 These hotels are now 15 to 30% above 2019 profit levels depending on the location, and in this sense, as we gradually return to normality, historical data are still very relevant to provide valuable insights. Those results will likely grow as immunity goes forward.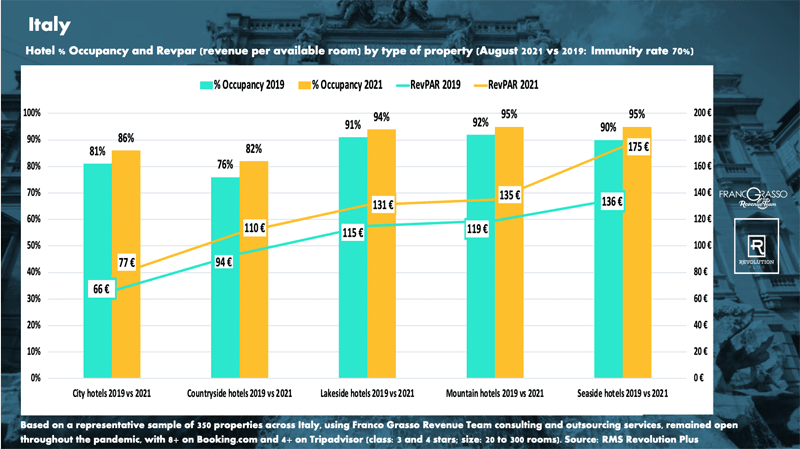 However, many hotels that have been closed for a long time or served as quarantine hotels are still struggling at 40 to 60% below pre-covid levels.
Free Ebook

: 5 Revenue Management Tips for City, Beach, Mountain & Countryside Hotels

In the ebook

"5 Revenue Management Tips for City, Beach, Mountain & Countryside Hotels"

, hoteliers find in total 20 practical tips for city, beach, mountain, and countryside hotels to increase their revenue.

Click here to download

this free ebook.

While nothing is 100% certain, science and math don't lie. A talented revenue manager can review historical and scientific data, use it to predict future revenue, and adapt to changing market conditions. When you use data to forecast a good mix of marketing approaches, you can optimize your profitable occupancy no matter whether your hotel is in a country with a 5% or 85% immunity rate.

Footnotes:
1 -The RT index determines the number of people that can be infected by one person on average. As long as this parameter remains below 1, we can rest easy to some extent, since the epidemic is receding. As soon as it rises above 1 the epidemic is growing, and positive cases will surge (and restrictions are likely to follow).
2 -The immunity rate is the percentage of immune people, either after contracting Covid or getting vaccinated. It can be calculated by summing those who officially tested positive since the beginning of the pandemic and those who got fully vaccinated.
Those recovered from Covid are usually not urged to vaccinate, or they are recommended to just take only one shot six months to one year after infection, as two doses could cause adverse effects. Furthermore, as they are already immune, scientists recommend saving their doses for those who really need it.
Scientists agree that immunity, either natural (after contracting covid) or vaccine-related, is effective also against novel variants as it protects from serious illness and hospitalizations.
Even if not 100% accurate, the immunity rate can give hoteliers an idea of the number of susceptible populations that can be hospitalized in their country and forecast possible scenarios for a full recovery.
3- The hospitalization rate is the percentage of beds occupied by covid patients compared to the total available beds. Of course, if people are immune and don't need hospitalizations, chances of lockdowns become really low as economic damages would outweigh health benefits.
4-The fatality rate is the proportion of deaths from covid compared to the total number of people diagnosed with the infection for a particular period.

All these data can be sourced from Nature, the CDC, the local Ministry of Health, Our World in Data, and Johns Hopkins University.
Revfine.com
2022-02-18T19:57:32+01:00