23 November 2020 – RoomPriceGenie announces a new service GenieIntelligence. An innovative way for small hotels to organise their revenue management – with just a daily email.
What are the benefits?
Not all hotels need automated price updates, and those using older property management systems may not be able to get those daily price updates. But everyone would like a lot more revenue without much extra work.
This is where GenieIntelligence comes in. Every day, we send you up to 5 future dates where you can increase your prices. Furthermore, we send you price recommendations for the next 2 weeks. You need to increase the green marked prices and reduce the red marked ones. With just this, you can benefit without using a full revenue management system.
No need to spend time checking competitors. We've done it for you.
No need to worry about occupancy this weekend. We already let you know what to do 2 weeks in advance.
No need to spend a lot of money. GenieIntelligence costs less than $2 per day.
All you need to do is change a few prices per day to our recommended prices and you will get more revenue and more peace-of-mind.
How does it work?
You sign up with your booking.com login and we pull all the information we need from that account and set up your email.
Then every day, we check the competition, look at how you are doing for occupancy and optimise your prices.
Then, every morning, we send you your 5 dates plus next 2 weeks of pricing. You put them into your PMS or channel manager.
Happy days.
What does it look like?
Well, we start off by showing you your Big 5 Dates – these are the dates in the next 3 months where you can confidently raise prices and make more revenue. We also show you how much potential revenue you could make from these changes. They are well worth the time!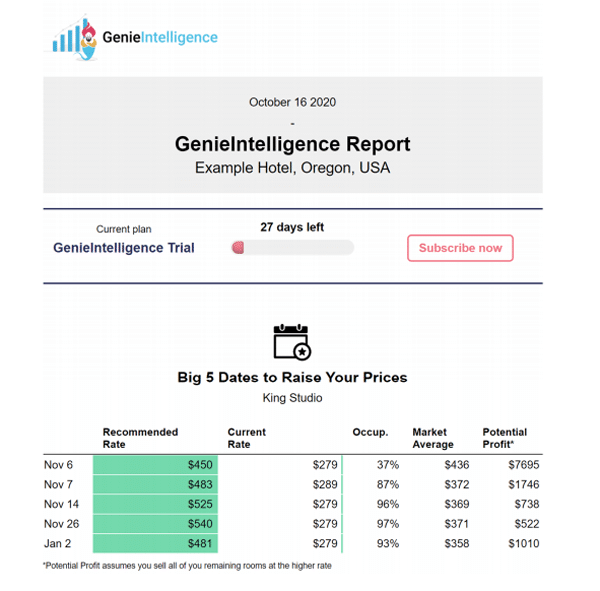 Then, because we know that a lot of bookings will be made in the next 2 weeks, we need to make sure your prices are right for the next 2 upcoming weeks. We give you a list of dates with a simple Green/Red colour code. Move up the Greens; move down the Reds. We show you your occupancy and the competitor prices to help explain where the recommendations come from.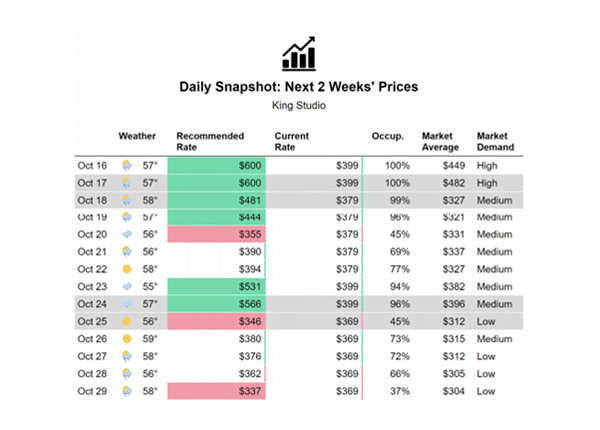 And finally, just in case you missed them, we provide an overview of upcoming events.

And that's it!
They say that 'less is more', and we've tried to stick to that principle. The more information you receive, the less attention you can give to the important information. We like to think we've got the balance just right!
Armed with all of this valuable information, but at the same time not overloaded, the small-hotelier of tomorrow can look forward to more revenue and less stress.
You can sign up to the GenieIntelligence email with a FREE TRIAL here – it takes just 2 minutes to set up and there is no obligation or credit card required. Why not try?
About RoomPriceGenie
When CEO, Ari Andricopoulos, visited his father's 15-room B&B he could see that they were not reaching their revenue potential. With his background in financial algorithms, he decided to work out a way to fix this. Along with great partners, Marvin and Joerg, and a phenomenal team, we have created a product that hundreds of hotels now use to compete with the larger hotels. The focus is always on simplicity and effectiveness. We hope you like it.
Contact
Ari Andricopoulos
CEO
Contact