5-star hotels are establishments tailored to a very discerning guest. To obtain a five-star designation, a hotel needs to offer not just lavish accommodation but a large number of different amenities — gyms, spas, gourmet restaurants, and more. Five-star hotels also provide a very high standard of service, personalised to each guest's specific needs. In this article, you'll learn what makes a five-star hotel.
Quick Menu
What Is the Hotel Industry?
What is the hotel industry and how is it distinct from the hospitality industry? The hospitality industry covers all kinds of leisure-related services and operations, from bars and restaurants to tourism services. The hotel industry overlaps with this but is specifically concerned with overnight accommodation.
As well as hotels, the hotel industry covers businesses such as resorts, holiday homes, serviced apartments, motels, boatels and bed-and-breakfast establishments. The term covers everything from simple backpacker hostels to the most luxurious 5-star hotel. Essentially, if a business provides accommodation for one or more nights, it's part of the hotel industry.
The hotel industry is hugely important to society. The hotel industry is an economic powerhouse as well as providing necessary services to travellers. Businesses falling under this umbrella bring revenue into the community around them and provide an array of employment opportunities. To learn more about the hotel industry, read the article "Hotel Industry: Everything You Need to Know About Hotels!"
International Standardisation in Hotel Star Rating Systems
5-star hotels are at the top of rating systems. Over the years, there have been many attempts to standardise hotel evaluations so that prospective guests have an at-a-glance indication of a hotel's quality. Several companies and bodies are involved in this effort, all offering their own versions of the star rating or something similar.
Typically, hotels are evaluated on a five-yearly basis, with the hotel being upgraded when it improves or downgraded if there's a drop in quality. These rating systems aren't perfect. There's no overall standardisation across different rating bodies, with different organisations using different criteria. The systems used are often complex and confusing for laypeople.
What Is the Significance of Hotel Star Ratings?
A traveller preparing for a trip will often start by looking for the perfect accommodation. A good hotel can make or break a holiday so prospective guests need to know the establishment's quality. When looking at a hotel listing online, a 5-star rating tells the customer that this is an upscale hotel.
The guest knows they can expect sophisticated rooms, a range of high-end amenities, fine dining, and excellent service. Of course, these things do come at a higher price. A five-star hotel rating, therefore, is an essential asset for hotel marketing strategies.
What Is a 5-Star Hotel?
A 5-star hotel is one where guests can expect a luxury experience. Rooms and other spaces used by guests will be lavishly furnished and appointed, with stylish decor and high-quality fittings. Amenities will be plentiful and varied, possibly including elements like a fitness room, a spa, a swimming pool, or courts where guests can play tennis or squash.
A five-star hotel will almost always offer fine dining. Service will be of the highest quality, as well as the usual hotel staff, guests, might have access to a personal butler, qualified spa masseurs, and personal trainers in the gyms.
What Is the Difference Between a 4-Star and 5-Star Hotel?
When striving to take their business from a 4-star hotel to a 5-star hotel, hotel managers must focus primarily on their experience. That usually means working to improve the level of service. A 4-star hotel will already boast lavish rooms, excellent bar and restaurant facilities, and amenities such as gyms.
In terms of the property, there won't usually be much difference between a 4-star and a 5-star establishment. The main distinction is the level of service offered. A 4-star hotel generally won't provide personal butlers or trainers in their gyms. Quality personalised service is often what elevates a five-star hotel above the average.
What Are the Features of a 5-Star Hotel?
Five star hotels have a distinct set of features that distinguish this part of the star rating system. Below are the main characteristics of luxurious hotels.
Facilities
A 5-star hotel's clientele can select from a variety of amenities. Ballrooms, golf courses, tennis courts and game rooms are usually available. There will also be gyms, hot tubs, steam rooms, saunas and heated swimming pools. Spas may offer health and beauty procedures like massages and manicures. Food and drink are often a major feature, with hotels striving to offer the best in fine dining and bar options. World-class chefs often prepare the food in the restaurants, and the cellars will be stocked with fine wines and beers. Personal service will be heavily emphasised.
Amenities
A 5-star hotel will boast superior amenities. Décor will be of the highest standard, with hotels employing skilled architects and decorators to create the perfect surroundings. The materials used will emphasise quality and luxury. The design will be consistent, except for hotels offering themed rooms and suites.
Rooms will be spacious and thoughtfully arranged, with large beds and high-end fittings. To attain a 5-star rating, a hotel must offer complimentary breakfast, a minibar, and free high-speed wireless internet. The room service menu should be the same as the menu in the main restaurant. Skilled staff should be on hand around the clock to care for guests' needs.
Quality of Service
It's the quality of service that really sets a 5-star hotel above its 4-star counterparts. Service must be consistent and exceptional. Staff must be highly trained to not only meet guests' needs as they arise but to anticipate those needs ahead of time.
Staff must be exceptionally attentive and intuitive, showing courtesy at all times and taking genuine pleasure in fulfilling their guests' requests. Queues and waiting times should be non-existent or at least very brief, with staff readily available daily or at night. The hotel must cultivate an ethos of superb service among its staff.
Four Famous 5-Star Hotels
Here are four well-known and exemplary 5-star hotels. These establishments are renowned for their exceptional facilities, unique offerings, and outstanding service.
The Plaza, New York City, NY, USA
The Plaza is a landmark of New York City. For over a century, it's been a by-word for luxury. Its long and storied history includes highlights such as Truman Capote's Black and White Ball, and it's been a haven for many famous names over the years. The NY City Landmarks Commission designated the Plaza as an official landmark in 1969 — the sole hotel to receive this designation. The lobby's Champagne Bar offers fine French bubbly to guests and visitors, while the Rose Club is famous for its splendid décor and ambiance.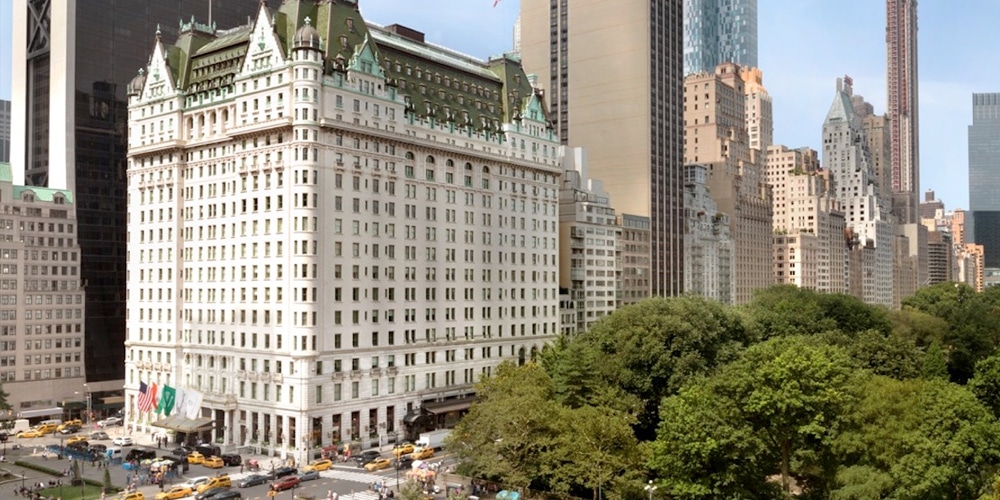 Click here to visit the website of The Plaza New York.
Shangri-La, Sydney, Australia
The Shangri-La is situated in the Rocks district, a historic section of Sydney. As well as unforgettable views across Sydney Harbour. The hotel offers drinks and light snacks in the Lobby Lounge, with more substantial gourmet fare in the Café Mix and the award-winning Altitude Restaurant. The hotel's CHI spa boasts private spa suites and offers a range of wellness treatments, drawing on Chinese and Himalayan traditions. For guests who are planning events at the hotel, there's even an on-site staging company to ensure that every event is as memorable as it is unique.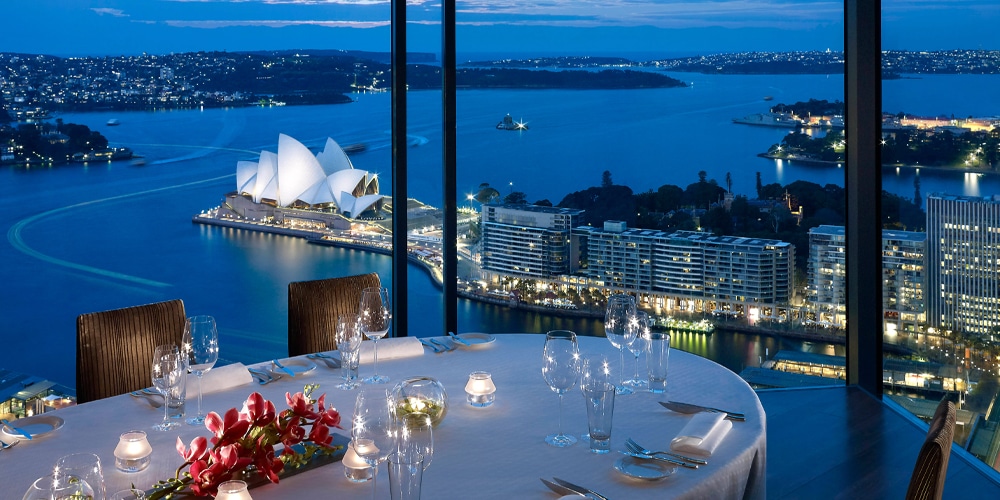 Click here to visit the website of The Shangri-La Sydney.
La Mamounia, Marrakech, Morocco
Situated opposite the Kutubiyya Mosque, La Mamounia is famous as one of the Leading Hotels of the World. This 5-star hotel has been voted Condé Nast Traveler's best hotel in the world for several years. The hotel offers not just rooms and suites, but riads — small, luxurious private homes located in the hotel's extensive and well-maintained gardens. The hotel's collonaded courtyards and reflecting pools with mosaic tiling help it live up to its name ("safe haven" in Arabic). There's a huge spa, 10 dedicated wellness rooms, and cabins for manicure and pedicure services. The hotel also boasts a large heated swimming pool.
Video: La Mamounia Marrakech
Click here to visit the website of La Mamounia.
Capella Ubud, Bali, Indonesia
Capella Ubud gives a new meaning to the term "glamping". It combines all the joy of getting close to nature with a 5-star hotel experience. Capella Ubud is situated in Keliki, an artist village on the sacred Wos River. It's close to Ubud's rice paddies and spectacular rainforest. The accommodation consists of sumptuous one-bedroom tented dwellings and a lodge with two bedrooms. The dining is superb, with three different restaurants (Api Jiwa, Mads Lange and the Camp Fire). There are also in-retreat dining and bespoke private dining options. Guests can enjoy a true jungle experience while basking in 5-star luxury.
Video: Join on virtual tour of the magical Camp
Click here to visit the website of Capella Ubud.
Understanding 7 Star Hotels
You've learned about the features of a 5-star hotel; now discover the incredible world of 7-star establishments. These fabulous 7-star hotels will introduce you to a new dimension of luxury and extravagance. You'll learn about the elements that set these hotels well above the normal definition of luxury, with incredible locations and services like helicopter transfers and personal chefs.
Want to find out which hotel has the world's biggest champagne selection, the most extravagant entertainment, or the most expensive suite? Read "The 7 Star Hotel: Learn Everything About Seven Star Hotels" to find out more about these outrageous hotels.
Cool Hotels & Their Relationship to Luxury 5 Star Hotels
Sometimes 5-star hotel luxury isn't enough for the discerning guest. These establishments buck hotel trends and offer something different and unique. Whether it's a distinctly different hotel concept, an imaginative and exciting theme or an exceptionally unusual location, these hotels are redefining cool.
Learn about floating hotels and hotels themed around favourite films or stories. Discover what makes a hotel cool and how you can bring some of that energy to your business. To learn all about these hotels and more, read "Cool Hotels: What Makes a Hotel Cool and What are Some Examples?"
A 5-star hotel isn't just beautiful and well-appointed. It also offers a level of care and attention from the staff that other hotels just can't match. While a 4-star hotel might be fine for a holidaymaker, only a 5-star hotel is good enough for celebrities.