Hotels offer a number of different career paths, thanks to the sheer range of hotel positions that exist. In order to find the best job for your skills, qualifications and preferences, it is beneficial to have a rounded understanding of these different roles. In this article, you will find a comprehensive overview of the positions within a typical hotel.
Quick menu:
Hotel Industry; Everything You Need to Know About Hotels!
Before getting into the specific hotel positions that exist, it can also be important to develop your knowledge of the hotel industry as a whole. In particular, understanding current industry trends and learning about some of the main strategies and techniques used by hotels can aid your understanding of how things work.
By reading the "Hotel Industry; Everything You Need to Know About Hotels!" article, you will be able to find out much more about the industry itself, how it works, and what the current direction of travel looks like.
Overview of All Hotel Positions
The precise hotel positions that exist within a property may depend on a number of factors, including the style and size of the hotel, and the personal preferences of management. However, the main positions are as follows:
Food & Beverage Hotel Positions
As the name suggests, the food and beverage department in a hotel is focused on providing guests with food and drinks during the course of their stay. This primarily occurs within restaurants, but also includes room service.
Waiting Staff
Waiting staff within a hotel restaurant are responsible for communicating with and attending to customers. The job involves finding out what guests would like to eat and drink, bringing them their meals, collecting payments and staying alert for any other needs they may have during their visit.
Restaurant Manager
A restaurant manager holds the senior role within the restaurant and this is often one of the most important hotel positions. The job involves managing all aspects of restaurant operations, from the quality of food, to the financial performance of the restaurant, to ordering new supplies, through to hiring and training restaurant staff.
Kitchen Staff
Kitchen staff often have one of the more varied hotel positions, with responsibilities largely depending on the size of the hotel and the nature of the restaurant. Typical activities may include basic food preparation, cleaning the kitchen, washing cutlery and dishes, setting tables and assisting the chefs or cooks with various tasks.
Kitchen Manager
The kitchen manager will be responsible for overseeing kitchen operations and monitoring performance levels. Activities may include hiring and firing kitchen staff, ordering kitchen equipment, purchasing food, maintaining hygiene standards, supervising food preparation and ensuring all staff members have the necessary training.
Head Chef
Head chef or executive chef is the top hotel position related to food preparation. The head chef will usually take responsibility for creating and maintaining the restaurant menu, while leading the team of cooks, sous chefs and support staff. In some cases, a head chef may also have budgeting responsibilities, instead of the kitchen manager.
Room Service
Those in-room service hotel positions tend to connect with the kitchen and restaurant staff, but the core responsibility here is providing services to guests in their rooms. This may mean speaking with guests on the phone, taking room service orders, passing them on to the restaurant and then bringing food and drinks to guests.
Front Office Hotel Positions
Front office hotel positions are customer-facing positions, centred around the reception area, or the first point of guest contact. The focus is typically on helping guests to settle in and solving problems for them.
Hotel Porter
Otherwise known as bellhops, hotel porters are responsible for taking guests to their rooms, transporting their luggage to different floors, and checking that rooms are acceptable. This is a hotel position that requires a rounded knowledge of hotel operations, however, as guests will often ask questions and seek advice.
Front Desk Employee
Front desk staff are responsible for a range of different aspects of customer service, including greeting guests, helping them to check-in, collecting payments and answering questions. Additionally, front desk employees may need to collaborate with room service staff, deal with complaints and manage guest keys or key cards.
Front Desk Manager
A front desk manager is responsible for overseeing front desk operations. This may mean performing front desk tasks, supervising front desk employees and taking on budgeting, hiring and training duties. A key part of the job also involves managing when staff are working, so that the front desk is not left unattended.
Maintenance & Cleaning
The maintenance and cleaning department covers all hotel positions related to maintaining hotel upkeep. In particular, there is a focus on cleaning, fixing things and catering for requests from guests.
Hotel Concierge
The role of a hotel concierge is one of the hospitality jobs that is usually associated with higher-end accommodation. The job itself involves performing tasks on behalf of guests. For instance, a guest may require transport and the concierge will then arrange it, or a guest may want a concierge to book entertainment tickets, or a table at a restaurant.
Housekeeping Employee
The main focus for those in housekeeping hotel positions is maintaining cleanliness, not only around the hotel's shared spaces, but also in guest rooms. Typical responsibilities will include cleaning guest rooms, re-stocking rooms before a new guest checks in, cleaning toilets, and washing bedding and other hotel laundry.
Housekeeping Manager
The housekeeping manager will be responsible for coordinating the housekeeping staff and ensuring they have all of the equipment needed to do the job. This means managing stock levels and supervising cleaning efforts. On top of this, the job also involves hiring, firing, staff training and managing the departmental budget.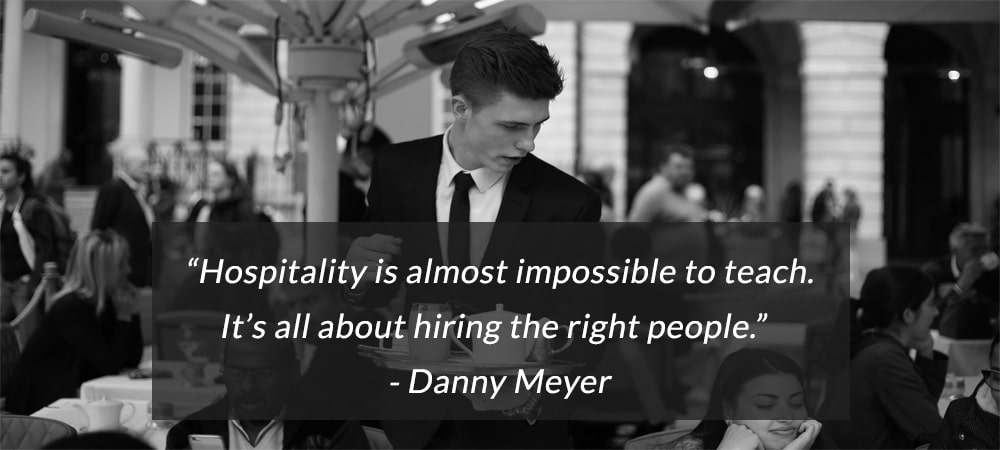 Management & Headquarters Hotel Positions
The management-type hotel positions are taken up by senior staff members and those with specific expertise. Work in these roles may often be office-based, either within a hotel or within the main headquarters.
Hotel / General Manager
The hotel position with the most responsibility, a hotel or general manager will be ultimately responsible for all aspects of managing the hotel. They will take responsibility for monitoring and reporting on performance, making strategic changes, and may need to step in and supervise or perform various tasks around the hotel to keep things running.
Marketing Manager
A hotel marketing manager will take responsibility for promoting the hotel to potential guests and business partners. This involves managing advertising strategy and expenditure, as well as finding ways to promote the hotel through alternative avenues. Often, the marketing department will also take responsibility for social media efforts.
Sales Manager
The role of a sales manager is sometimes seen as an optional hotel position, because the core responsibilities may instead be taken on by a combination of the general manager, an assistant manager, or the marketing department. Where it does exist, it involves selling hotel rooms, hotel facilities, wedding services and other hotel products.
Revenue Manager
Revenue management involves maximising the revenue that comes into a hotel and optimising financial results. This is primarily achieved by taking a strategic approach to distribution, ensuring that hotel rooms are sold to the right customer, for the ideal price, at the right time, through the best possible channel.
Accounting Manager
The hotel position of accounting manager will oversee the accounting department and any staff within it. Responsibilities will include ensuring the hotel is properly monitoring and documenting income and expenditure, managing the payment of employees, and ensuring bills and taxes are paid properly and on time.
Purchase Manager
Purchasing managers take responsibility for buying the equipment and other items that hotels need to function. The job involves carefully managing stock levels, so that the hotel is never caught short, but also without creating a situation where items stay in storage too long, taking up valuable space.
Human Resource Manager
The human resources department focuses on aspects related to people, and the HR manager will coordinate those efforts. HR tasks may include dealing with employment disputes, developing and implementing HR initiatives, sitting in on meetings, creating policies around staff conduct and helping employees settle into their hospitality careers.
IT Manager
Finally, one of the most technical hotel positions is that of the IT manager, who takes responsibility for managing the hotel's IT systems, networks and processes. Responsibilities here may range from ensuring booking systems are operational, to managing and optimising the hotel's cyber security, and maintaining data protection standards.
Video: Different Types of Hotel Positions
Below you find a video where hotel manager Wilson shows you different types of hotel positions.
Hotel Management: Everything You Need to Know About Managing a Hotel
Hotel managers must perform a vast range of different tasks and take responsibility for the overall success or failure of the hotel. Hotel management positions are challenging, varied and rewarding, but also require stamina, commitment and a rounded understanding of processes and the industry at large.
Check out "Hotel Management: Everything You Need to Know About Managing a Hotel" to learn more about the role of a hotel manager, what it entails, who it is appropriate for and what the entry requirements are.
Channels for Finding Hotel Management Jobs
Many people dream of becoming a hotel manager, or working in one of the management-based hotel positions. Yet, it is important to check out the full range of options when trying to find hotel management jobs, as not all vacancies will be advertised in obvious places, such as industry job boards, or on the hotel's own website.
Read "Channels for Finding Hotel Management Jobs" for an overview of the main channels.
Using Job Boards to Find Hotel Jobs
Irrespective of the precise hotel position you are interested in, hotel job boards serve as one of the most useful platforms to turn to, allowing you to explore job opportunities from a range of different hotel chains and employers, apply for hotel jobs online and access additional resources or services, all in one place.
Our "Using Job Boards to Find Hotel Jobs" article explains the benefits of hotel job boards in more detail and provides a breakdown of some of the most popular websites and platforms.
Looking for Hotel Vacancies Directly
Some hotels may not use the job websites you typically turn to to advertise vacancies, which can unnecessarily restrict your search for a hotel position. With this in mind, it is sensible to have a list of the main brands and chains, allowing you to explore potential hotel vacancies through their own websites or social media channels.
Read our article, "Looking for Hotel Vacancies Directly", for a list of some of the world's most popular and successful hotel chains and then check out the job opportunities they are advertising.
Advice for Sourcing the Best Hotel Staff
For hotel managers, HR staff and recruiters, one of the biggest challenges is finding hotel staff with the right attributes, knowledge and qualifications. This can be especially problematic if key staff members leave unexpectedly, or if new job roles are created within the organisation, but it also applies to filling almost any hotel position.
Our "Advice for Sourcing the Best Hotel Staff" article seeks to offer practical advice on how to ensure you find and attract employees with the necessary skills and qualities to succeed.
Finding Your Ideal Hotel Manager Job
The job market for managerial hotel positions, including the roles of a hotel manager or general manager, is extremely competitive. Whether you are exploring the possibility of moving into such a role for the first time, or have previous experience and are seeking a new challenge, there are some steps that can help to boost your prospects.
In "Finding Your Ideal Hotel Manager Job" you will find advice on how to land a manager role.
Finding and Securing Jobs or Hotel Careers
The sheer range of hotel positions that exist means that opportunities in the industry are numerous and varied. At the same time, however, many people are interested in hotel careers, so you may face significant competition when applying for a vacancy. This is why it is important to take action to make sure you stand out from other candidates.
Our "Finding and Securing Jobs or Hotel Careers" post will explain more.
Hotel Positions: An Overview of the Restaurant Industry
Hotels and restaurants go hand-in-hand, and many of the top hotel positions can also be considered to be part of the restaurant industry. The restaurant industry itself is complex, because there are many different types of restaurants, and there is an ever-growing array of restaurant technology solutions to familiarise yourself with.
To find out more about the industry itself, how it is defined, the different restaurant types that exist, and the emerging restaurant technology, read "Restaurant Industry: Overview, Types, Examples and More".
Hotel Positions: All About Hotel Restaurant Management
Hotel restaurant management jobs are among the most sought-after hotel positions, and it is important that those seeking managerial roles take the right steps to prepare. For instance, you should know precisely what the role entails, and you should also understand the education requirements and necessary personal qualities.
You can find out all about restaurant management, and gain all of the knowledge needed to prepare for a career in this area by reading the "Restaurant Management: Everything You Need to Know" article.
Hotels are busy places and many different tasks need to be carried out for them to run effectively. This overview of the main hotel positions offers a breakdown of common roles and the main responsibilities associated with them. When equipped with this knowledge, it becomes easier to run a hotel effectively or simply find your ideal job.