Over the last few years, Amazon Alexa Echo speakers have emerged as a mainstream consumer product, serving as a way for customers to control their 'smart' devices and appliances from a single place. More recently, Amazon have also brought the technology into hotels and resorts, with the launch of a dedicated Alexa for Hospitality service. In this article, you will learn more about Amazon Echo speakers and their current and future roles within hotels.
Quick menu:
What Are Amazon Alexa Echo Speakers?
Amazon Echo speakers are a brand of 'smart speakers', which are capable of voice interaction, music and audio playback, answering questions, and delivering real-time information. Additionally, the speaker can serve as an automation hub, connecting to and controlling various other 'smart' devices nearby.
The speakers are integrated with 'Alexa' – a virtual assistant technology, developed by Amazon, which is powered by artificial intelligence. The virtual assistant is activated by a wake up command, with the default command being 'Alexa', and this then tells the device to listen to the question, request or instruction that follows.
Amazon Alexa Echo Speakers for Hotels
Alexa for Hospitality is a version of Amazon's virtual assistant technology, which has been designed specifically for use within hotels and hospitality businesses. The hospitality version of the service was launched in June 2018 and has already been adopted by a number of major hotel companies, including Marriott, Autograph Collection and the Wynn. It can be integrated with existing smart devices and allows those operating in the hospitality management to offer a more personalised guest experience.
More information about the Alexa for Hospitality service can be found in the following video:
How Do the Alexa Speakers Work?
Amazon Alexa Echo speakers are powered through a combination of artificial intelligence and IoT (the Internet of Things) technology, which allows it to serve as a virtual assistant and central 'smart hub'. The technology centres on voice recognition, meaning the speakers understand and respond to human speech.
These various technologies allow Amazon Alexa Echo speakers to function as a command point for other 'smart' devices nearby. As a result, users can potentially turn the TV on or off, play music and control other devices through their voice. The speakers are also able to speak back and can search the internet for answers to questions.
On top of this, Amazon Alexa Echo speakers also perform more traditional speaker functions, such as connecting with radio stations or music streaming services and outputting high-quality audio.
How Can Alexa Echo Speakers Improve the Customer Experience?
The Alexa for Hospitality offering has the potential to improve the customer experience in a number of exciting ways. The service can be tailored to each individual location, enabling it to be connected to things like room service offerings and restaurant booking processes, and allowing guests to order food or book a table just by speaking.
Moreover, the device can be connected to controls within the room, such as the lights, heating, ventilation and air conditioning. This could mean that a simple voice command like: "Alexa, turn off the lights" will allow the lights to be turned off from anywhere in the room, including from the bed.
Amazon have also already announced intentions to expand the technology further, allowing hotel guests to connect their own Amazon account to the Amazon Alexa Echo speakers. This opens up enormous potential for greater personalisation, with users being able to access their own music, playlists and audiobooks.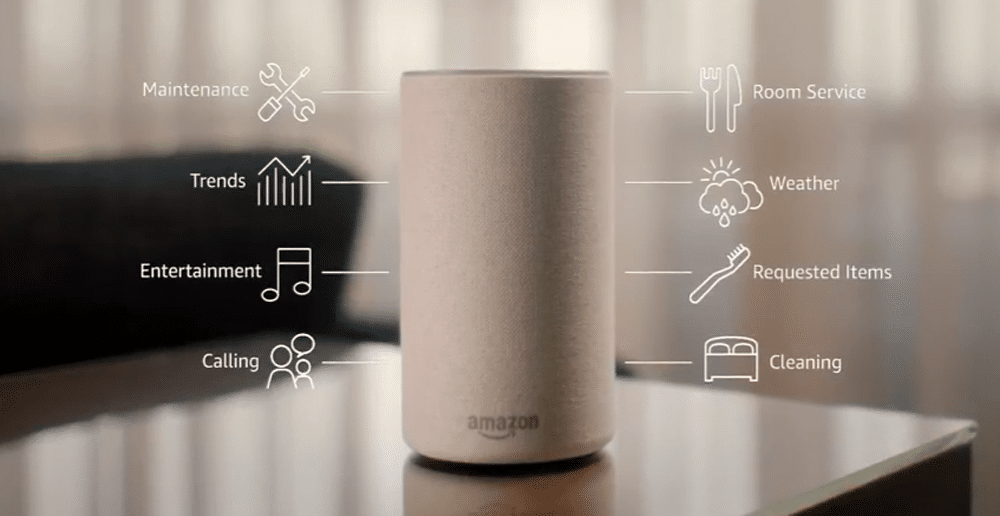 What Happens With the Collected Data?
For customers, one of the major concerns related to Amazon Alexa Echo speakers is the question of privacy, and with the Alexa for Hospitality service this is even more important, because multiple guests will be using the service. However, Amazon have taken steps to reassure hotel owners and their guests of safety in this area.
Recordings of commands given to the Alexa for Hospitality device are automatically deleted every day, and hotel owners are unable to access either the recordings or the responses from Alexa, guaranteeing privacy for guests. Furthermore, once the feature is available, the account link-up will automatically disconnect upon check out.
Hotel owners are able to manually reset devices for the next guest, and can use some data for analytics purposes, such as engagement levels associated with specific services. However, all voice communications are encrypted.
Customers who are extremely concerned about privacy can also press the microphone on/off button to turn the device off. When it is turned off, the Amazon Alexa Echo speakers will no longer listen and will no longer respond to the wake up command, until such time as the microphone is turned back on.
Amazon's new service has helped hotel companies to introduce Amazon Alexa Echo speakers into their rooms, enhancing the customer experience and offering greater levels of personalisation. It has also made it possible to make restaurant bookings and room service orders without needing to speak to a real person.
More Technology Trends
With digital technology continuously evolving, it should come as little surprise that its applications within the travel and hospitality industry evolve too. In the following articles we piled up the most innovating digital trends in the hospitality industry.